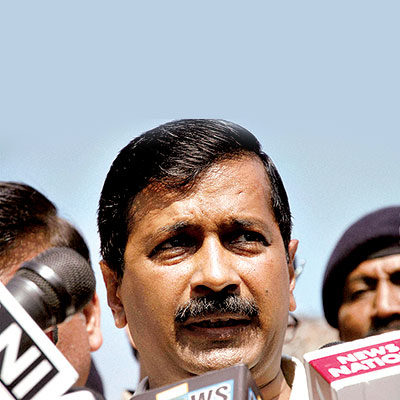 Continuing his attack against Gujarat chief minister and BJP's prime ministerial candidate Narendra Modi, Aam Aadmi Party's (AAP) Arvind Kejriwal on Friday shot off another letter to Modi raising over a dozen questions about the Gujarat development story.
Punching holes in Narendra Modi's Gujarat development claims, Kejriwal raised 16 questions to Modi over issues like agriculture, small-scale industries, unemployment, education and health services among others.
Kejriwal, who is in Gujarat since March 5 to take stock of Modi's development claims, went to Modi's residence in Gandhinagar (Gujarat) to meet him but was turned away. AAP leader Manish Sisodia, who was with Kejriwal, was asked to submit a written request for meeting with Modi and was plainly told that the whenever Gujarat CM would decide over their request they would be informed.
In his letter to Modi, Kejriwal raised 16 questions regarding the BJP leader's development claims on Gujarat.
Among the questions he posed to Modi were about the latter's view on pricing of gas coming from KG basin, Gujarat government buying solar power at high rate without tendering while the price elsewhere is less than Rs8 and issue of corrupt ministers in Modi's cabinet.
He also questioned Modi on poor health and education services, decrease in Gujarat's agriculture production, poor health of Gujarat's small scale industries, favouritism towards big industries and also about source of funds for private planes and helicopters used by Modi for his election campaigns.