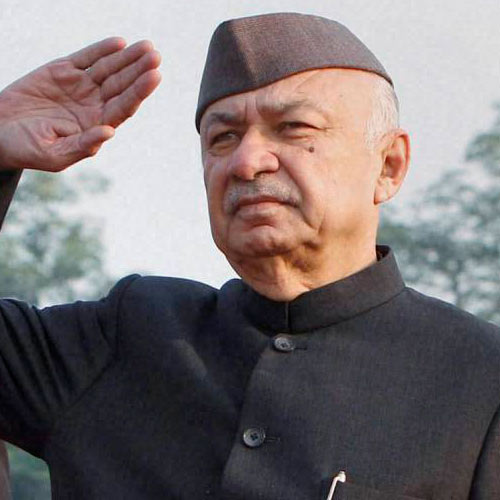 Former Army chief Gen VK Singh has issued a legal notice to Home Minister Sushil Kumar Shinde, threatening to drag him to court over alleged "failure" to act upon his complaints of "sedition and treason" against certain individuals.
In the notice served to the Home Minister through his lawyer Vishwajeet Singh, the retired General, who joined BJP today, said, "Why judicial intervention should not be sought in the matter against you for dereliction of duty in such a serious matter that has direct implications on India's national security."
The former chief said he had complained to Shinde on "offences of sedition, treason and violations of the official secrets act by certain individuals" referring to some media publications on "attempted military coup" and had sought probe into the matter.
Singh has given seven days time to Shinde to respond to his notice, failing which he said he will initiate legal action against him.
The alleged offences mentioned by Singh against some media persons and Army officials were related to violations under Official Secrets Act, 1923 and the National Security Act, 1980 as also under various penal provisions of the Indian Penal Code, 1860.
Singh said he had issued a reminder to the Home Minister in December seeking response on his previous complaint.
Shinde, however, did not respond either to the complaint or to the reminder, the notice said.
"You chose to initiate no action whatsoever upon receiving the said complaint. You further chose not to respond to my client or inform him as to the reasons for not taking any action on his complaint," it said.
The BJP chief also attacked the government over 'one-rank, one-pension' decision, saying it came too late.
He said it was BJP veteran LK Advani who had first raised the demand and the UPA government had accepted it only at the time of the elections.
Rajnath Singh also said that the defence forced needed modernisation which was not being done.
Stressing the need for indigenous production of weapons, he wondered if India could send a spacecraft to Mars, why could it not produce defence equipment.
He said the country does not have a war memorial and promised that the BJP would build it if it comes to power.
The BJP chief said that the emotion towards the people towards armed force personnel was such that Bollywood actress Rakhi Sawant came on her own to the BJP headquarters with a wish to tie a 'rakhi' to soldiers.
Gen (retd) VK Singh's tenure as the Army Chief was marked by a controversy over his age. He became the first serving chief to drag the government to the court over his age issue which was decided in favour of the government by the Supreme Court.
The dispute over his age arose because he had two sets of date of birth -- May 10,1950 and May 10,1951 -- in his official records.
Government had recognised 1950 as his official date while he was insisting that it should be 1951, which would give him 10 months more in service.
Soon after retirement, Gen Singh had adopted an anti-government stance and blamed the bureaucracy and the Prime Minister's Office for creating troubles for him during his tenure.