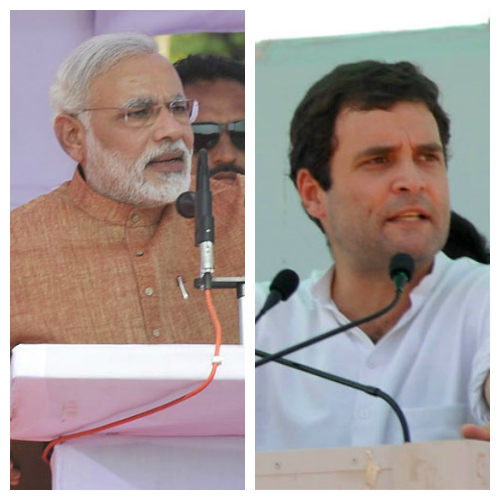 As the country awaits unsealing of the electronic voting machines (EVMs) on Friday to know fate of candidates, diplomatic community in Delhi expects a strong government and a resolute leader to take over Delhi to break the hesitant and indecisive attitude of the UPA-II. Many foreign envoys here believe the gains accrued during the last days of the NDA government and the UPA-I were frittered away due to overcautious attitude of Prime Minister Manmohan Singh and his team during the second innings. Not only the foreign missions, even many India-based multi-nationals over past two months had hired analysts and pollsters at hefty pay packets, not only to analyse and predict results, but foresee policies and attitude of the future rulers.
Despite some of the statements of the BJP's prime ministerial candidate Narendra Modi raising hackles in the neighbouring countries Pakistan and Bangladesh, their diplomats in Delhi say, they hope the BJP leader to recreate the era of NDA-led by Atal Bihari Vajpayee and continue with his policy of improving ties for the sake of a peaceful neighbourhood. "In UPA-I, Manmohan Singh had actually build up on the edifice put up by Vajpayee during his tenure," a senior Pakistani diplomat told dna.
Echoing similar sentiments, a senior Bangladeshi diplomat said the Prime Minister Sheikh Hasina Wajid government had pinned stakes on the Congress-led Manmohan Singh government. Not only was Hasina's Awami League identifying itself with Congress party and its president Sonia Gandhi, her tenure did brought about a change in relations by addressing India's security concerns.
But in return, he laments that while then Congress alliance partner Mamata Banerjee blocked the Teesta agreement, the opposition, the BJP and the Assam AGP opposed to implement the land border agreement (LBA). In return, India's request to grant transit between West Bengal and North-Eastern states via Bangladesh was shelved.. Further, the diplomat requesting anonymity, complained that the UPA government also did not respond to the demands of the removal of tariff and non-tariff barriers on Bangladeshi products to reduce huge trade imbalance.
The United States which over the years refused visa to Modi, now says, they will work very closely with whoever is the next prime minister of India, I can guarantee you that," state department spokesperson Marie Harf told media. The outgoing US ambassador Nancy Powell, who met Modi in February signalling a major change in US policy expects the new government to convene a Track 1.5 event, involving current and former former senior policymakers and military officials during its first 100 days to sort out issues and to accomplish $500 billion in bilateral goods and services trade between the two countries. Over past two years, the trade between the two countries has grown at a slow pace of 2.5 per cent. A US diplomat also lamented that many issue related to patents and nuclear liability remained undecided due to politicking.
Pakistan's newly appointed envoy Abdul Basit says his country was eagerly awaiting the new government in India to take forward dialogue process. Even though Modi has made some tough statements raising hackles in Pakistan, he has promised to pick up threads from Vajpayee era, drawing a hope. Islamabad had always expected Modi to launch high-decibel attacks on Pakistan during the election campaign. "That's no surprise to us," the diplomat said.
European diplomats had already taken a lead over others to reach out to Modi to seek business in Gujarat. British High Commissioner James David Bevan during the elections visited Raebareli, the seat from where Sonia Gandhi is contesting. But, he visited the constituency to meet BJP candidate Ajay Agrawal. Currently in London, Bevan tweated "Busy day of talks in #London yesterday with MPs, Ministers & @Number10gov (UK Prime Minister David Cameron's office). Huge interest in Indian elections."
Meanwhile, US President Barack Obama also acknowledged successful holding of elections in India – world's biggest democracy. Congratulating Indians on concluding national elections, US President Barack Oboama, in a statement said, "India has set an example for the world in holding the largest democratic election in history, a vibrant demonstration of our shared values of diversity and freedom".
Obama's quick reaction is also important as US was one of the main countries boycotting Modi which finally ended earlier this year in February when its ambassador Nancy Powell met him. Also India-US relations in the last few years have taken a nosedive due to various reasons. Thus US would probably try to rebuild relations with a new set of administration and leaders at helm in India.
Strategic experts in India are, however, more concerned at the turn of relations with Bangladesh, keeping in view the high-pitched BJP rhetoric against Bangladeshi refugees. Rupak Bhattacharjee, senior fellow at the Institute of Defence Studies and Analysis, a premier think-tank, apprehends that the relationship might even undergo a radical transformation in case the Modi government vigorously pursues certain policies vis-à-vis Bangladesh.