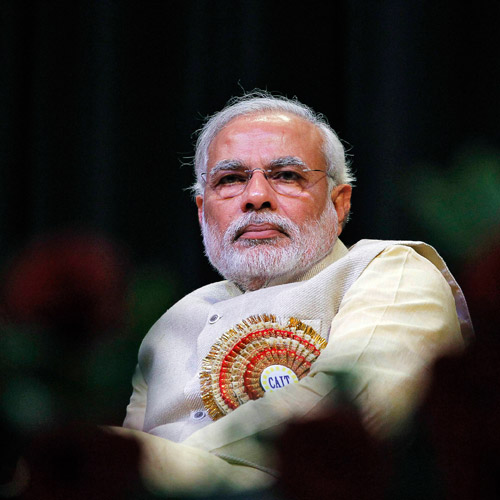 Prime Minister Narendra Modi took to twitter and expressed his keen desire to witness a public-government partcipation in future to handle the issue of damage to environment in India.
On occassion of 'World Environment day', Modi said, "We are blessed to be a part of a culture where living in complete harmony with the environment is central to our ethos."
India's tryst with environment problems continues as Public Health index witnesses increase in ailments with increasing scale of pollution. New delhi was rated as one of the worst polluted cities to live in across the globe recently.
According to reports, outdoor air pollution has become the fifth largest killer in India after high blood pressure, indoor air pollution, tobacco smoking and poor nutrition, according to a Global Burden of Disease (GBD) report.
The report says that about 620,000 premature deaths occur in India from air pollution-related diseases. It also highlights that annual premature deaths caused by particulate air pollution have increased by six times since 2000 and accounts for one fifth of global deaths.
Hence a strong emphasis on restoring and safe-guarding environment is critical for India as various civic activist groups and citizens seek environment safety over development in Delhi.
An environment survey, conducted by The Energy and Resources Institute (TERI) across eight cities recently has revealed that over 50% of respondents in the national Capital favour prioritizing environment over development as against 44% of their counterparts in Mumbai and 19% in Pune.
More people in Mumbai and Pune feel that environment and development can go hand in hand according to the report.
With public awareness and questioning, even BJP's manifesto spoke largely about environment safety. The biggest agenda was set for safe-guarding and cleaning up the massive 'Ganga river'. Uma Bharti has been charged with the responsibility to dispense duty in Ganga cleansing and restroation efforts.
Here's what UN leaders are saying about 'World Environment day':
What are UN leaders saying about World Environment Day? See all their #WED2014 messages here: http://t.co/hZs0G9WTqs pic.twitter.com/BjUUVt3Wiq

— United Nations (@UN) June 5, 2014
"Raise Your Voice, Not the Sea Level"- Ban Ki-moon, Secretary-General of the United Nations Read the full text here:
Modi further tweeted, "Along with Govt. efforts, people's participation can make a big difference in creating a cleaner & greener planet."
Zee media group also initiated a campaign and online petition called ''Gangajal..My Pride'' to save River Ganga.
Below are Narendra Modi's tweets:
World Environment Day- a day to bow to Mother Earth & to reaffirm our pledge to protect the Environment, making our planet cleaner & greener

— Narendra Modi (@narendramodi) June 5, 2014
We are blessed to be a part of a culture where living in complete harmony with the environment is central to our ethos.

— Narendra Modi (@narendramodi) June 5, 2014
Lets serve as Trustees, where we utilise our natural resources for the present & at the same time ensure happiness of future generations.

— Narendra Modi (@narendramodi) June 5, 2014
Along with Govt. efforts, people's participation can make a big difference in creating a cleaner & greener planet.

— Narendra Modi (@narendramodi) June 5, 2014
World Environment Day- a day to bow to Mother Earth & to reaffirm our pledge to protect the Environment, making our planet cleaner & greener
— Narendra Modi (@narendramodi) June 5, 2014