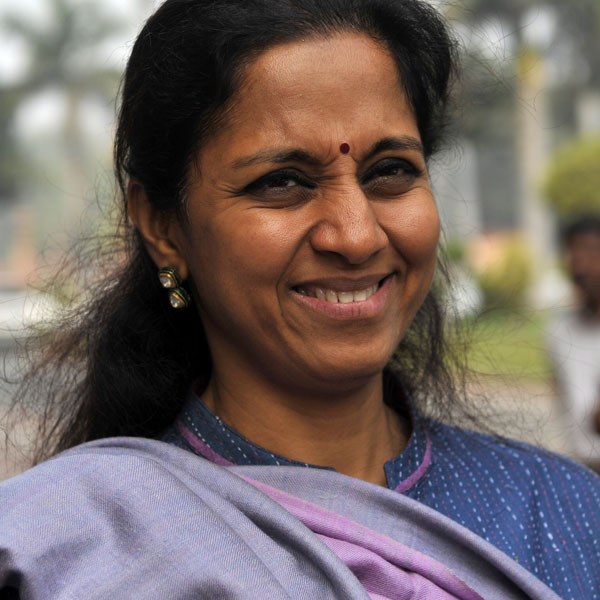 The 16th Lok Sabha has got the largest number of female members (61), including five from Maharashtra — three from BJP, one from Shiv Sena and one from NCP — all from dynasty politics. In the previous Lok Sabha, the state had sent only three women representatives, two of which have been re-elected this time.
Shiv Sena's Bhavana Gawali (40) has won from the Yavatmal-Washim constituency for the fourth term. Supriya Sule (44), NCP supremo Sharad Pawar's daughter, got re-elected from Baramati, amidst the Modi wave. The BJP has given candidature to three women — ousted NCP leader Vijaykumar Gavit's daughter Heena (Nandurbar), Eknath Khadse's daughter-in-law Raksha (Raver) and late leader Pramod Mahajan's daughter Poonam (north central Mumbai). All three won in their debut Lok Sabha polls.
The political circle is abuzz with how these five female MPs are gearing up to make their mark at the national level. Many observers feel Gawali is experienced and may bag a ministry this time, but the three BJP women will have to work hard to shine at the national level, in addition to managing their large constituency.
"Heena is just 25 years-old and still completing her MD. She got the ticket because of her father and won because of the Modi wave. She may take six months to understand her constituency and a year to understand the Lok Sabha procedure," says Surendra Jondhale, a political analyst. Poonam also lacks experience and she may have to work hard to fulfill the aspirations of people and make her mark in national politics, according to Jondhale.
Raksha is the widow of Khadse's son Nikhil, who committed suicide a year ago. Raksha, a mother of two, has been a sarpanch and was later elected to the Jalgaon zilla parishad. "To pursue the issues of your area or to get any project sanctioned, you need to have thorough knowledge of your subject, along with a strong personality. The newcomers may lose out on these accounts. However, India has seen some very strong women parliamentarians. So, wait for some time," said a BJP leader.
"You must be fluent in both, Hindi and English if you are a parliamentarian. Young members hardly get a chance to ask questions. Speakers usually give a chance to the senior leaders who are articulate and drive good debate on topics. So competition is tough even in the Lok Sabha," said an ex-MP.
A leader from the NCP said, "Though Sule has been regular in the previous Lok Sabha, she hardly took part in any debates. A lot is expected from her now." The party has bagged only four seats in Lok Sabha this time, sans Senior Pawar and Patel.