Experts surprised by the accident involving a plane known for its safety record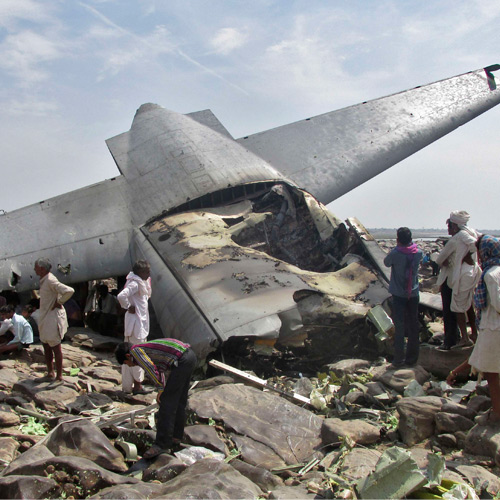 A newly-inducted C-130 J aircraft of Indian Air Force has crashed near Gawlior in Madhya Pradesh, killing five air force personnel, including four officers, on board.
Officials of IAF and the defence ministry are surprised with the mysterious and unusual mid-air crash of a transport helicopter, which has highest safety record. The military transport plane, India's biggest, is also known as Super Hercules, also considered as one of the safest military aircraft of the world. It crashed 72km west of Gwalior an hour after it took off from Agra air base on a routing flying training mission.
Four officers who were killed in the crash have been identified as Wing Commander Prashant Joshi, Wing Commander Raji Nayak, Squadron Leader Kaushik Mishra, Squadron Leader Ashish Yadav and Warrant Officer KP Singh. Total 35 crashes involving IAF's aircraft took place since 2010. The IAF has bought six C-130J from United States in February 2011 at the cost of around Rs6,000 crore (USD 1.1 billion). And six additional C-130 J are also set to induct in IAF after a fresh order placed couple of months back. Indian Air Force C-130J tactical transports are configured for special mission roles and are fitted with an infrared detection set, enabling precision low-level flying. Squadron of six C-130 J was based in Hindon in National Capital Region.
The same aircraft was used in Uttarakhand flood relief and rescue operations last year and had played a key role after landing at Dharasu air strip and literally used as oil tanker to fill fuels for military choppers working there for the mission.
In August last year, in a strong message to China, the Indian Air Force had landed the same aircraft at the world's highest airstrip Daulat Beg Oldie (DBO) in Ladakh near the Line of Actual Control, the scene of a stand-off with Chinese troops in April 2013.
In fact, C-130 J was also pressed into the search and rescue operation of missing Malaysian airliner MH 370.
The IAF has ordered a court of inquiry to establish the causer of the accident. Prima facie reason appears to be a human error, as the aircraft was flying at very low level and hit a hillock in Karauli district of Rajasthan.
While sharing grief with the family members of the victims IAF chief, Air Chief Marshal Arup Raha said,"C-130J is a modern aircraft which was inducted into the IAF in 2010. In the last three years of its operations we have exploited capabilities of this aircraft during Uttarakhand floods and landing at DBO, which is the highest landing ground in the world. Needless to say, that the best pilots have been chosen to fly these aircraft," "While the IAF will conduct a thorough enquiry into the accident to ascertain exactly what led to this accident, the IAF remains committed to provide the bes possible equipment and training to our personnel so that they can execute their assigned missions professionally," IAF chief added.
Defence minister AK Antony called up the IAF chief to update him about the accident. The minister has sought a detailed report on the 'mysterious accident'.
Calling the incident 'bizzare', a senior IAF pilot told dna that it is hard to accept mid-air crash of a four-engine aircraft. "C-130J is known for its highest standard of safety and aircraft can even land and take off from a very small airstrip. It can even take off or land in very rough weather conditions. It has a multiple safety mechanism on board," said an IAF officer, who did not wish to be named. The The aircraft manufactured by Lockeed Martin has Rolls Royce engine.
C-130 J has proved its mettle in the US allied forces war in Afghanistan and once even survived an attack by Taliban militants during an operation in Afghanistan.