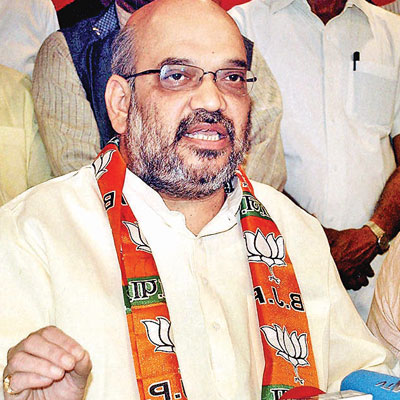 A day ahead of the first phase of Lok Sabha elections, complaints were lodged against BJP leaders Amit Shah and Vasundhara Raje for allegedly violating Election Commission's model code of conduct on Sunday.
The UP Police lodged an FIR against Amit Shah, BJP general secretary in-charge of the state, for his alleged 'hate-speech' in Muzaffarnagar where he reportedly asked Jats to avenge the killing of their community members in last year's riots by voting for BJP.
The FIR was lodged against him in Bijnore for the violation of the model code of conduct during elections. Shah was booked under Section 153(A) of the Indian Penal Code (promoting enmity between different groups) and Section 125 of the Representation of the People Act (promoting enmity between classes in connection with election).
Samajwadi Party and the Congress had approached the EC seeking action against the leader, with the latter demanding Shah's arrest. Police said Shah could be arrested as the FIR mentions section 153A IPC, a non-bailable offence.
The BJP on the other hand condemned the action of Bijnore district administration, saying the FIR was "not bonafide" and that it was a "calculated design" to communalise and polarise the election scenario in UP. Responding to the FIR, BJP state president Laxmikant Bajpayee said it was a "conspiracy" by the SP, supported by the Congress and the BSP. In Delhi, the BJP put its weight behind Shah and condemned the 'vindictive' probe. "It's a calculated design to communalise and polarise the election in UP," said BJP leader Ravishankar Prasad said.
In Jaipur, condemning both the Congress and BJP leaders for playing "politics of religion", the AAP in Rajasthan on Sunday moved the EC, appealing to ensure action against chief minister Vasundhara Raje over her provocative remarks at a public meeting in Karauli district. In a retort to Congress' Saharanpur leader Imran Masood who threatened to chop Narendra Modi to pieces, Raje had said the Lok Sabha results will clearly show who will be cut to size and who will be the winner.
—With inputs from agencies