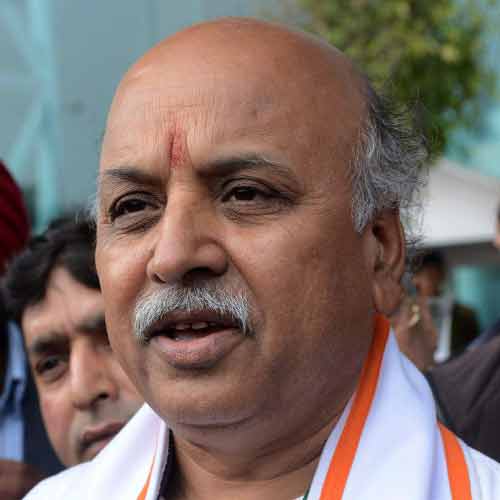 After VHP leader Pravin Togadia's alleged anti-Muslims remarks in Gujarat's Bhavnagar, a First Information Report or FIR has been registered against him.
VHP president Pravin Togadia had said on Sunday in Gujarat that Muslims should be barred from buying property in Hindu-dominated localities.
Bhavnagar Superintendent of Police MS Pawar told media that the police has begun its enquiry into the alleged remarks made by Mr Togadia.
He also said that the police is collecting statements from people who were present at the alleged meeting. An action taken report will be submitted to the Election Commission today, Mr Pawar added.
The Congress had complained to the Election Commission against Mr Togadia's remarks. The Commission said it will investigate the controversy.
On camera, at a gathering in a house in Bhavnagar in Gujarat, Mr Togadia is seen offering advice on how to prevent Muslims from buying property in areas where Hindus are in the majority. "We should have it in us to take the law in our own hands in an area where we are a majority and scare them," Mr Togadia says.
Togadia denied making hate remarks. He added, "Some people gathered and told me that Muslims are forcibly throwing us out, I asked them to take help of the police. The story is not about Muslims getting thrown out; it is about Muslims forcing Hindus out of their houses,"
The VHP is a key constituent of the Sangh Parivar, an umbrella of Hindu nationalist organisations that includes the BJP, whose Meenakshi Lekhi yesterday said, "Togadia is not in the BJP. Those who speak without thinking and those who distort words both must be condemned."
He also told the gathering, attended mainly by local residents and Bajrang Dal workers, that a 48 hour ultimatum should be given to the Muslim occupants of the house to move out, failing which Bajrang Dal should storm the house and take posession of it.
The comment caused much outrage, but the RSS denied that Togadia had made any such comments. It said that the news was fabricated, and Togadia himself claimed that it was a 'conspiracy' against him.
Social media, however, is not ready to let the issue die down quickly. Twitter was buzzing with the #ArrestTogadia on Monday, where Twiterrati slammed Togadia, RSS and the BJP. However, some Twitter users had a different take as well.
Read: Pravin Togadia's hate speech causes uproar on social media