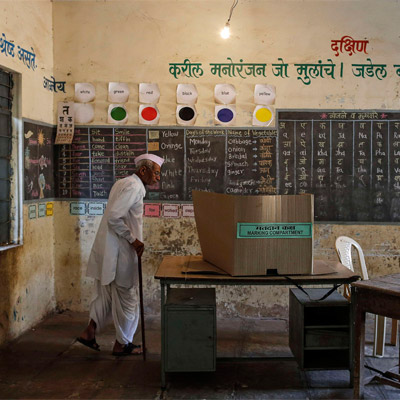 In a very encouraging response to the ongoing Lok Sabha elections, West Bengal recorded the highest trunout with over 80% voting. Long queues of voters were seen in the four constituencies - Darjeeling, Jalpaiguri, Alipurduar and Cooch Behar - Darjeeling recorded a 76% turnout and Alipurduar 79.4%. The figure for Cooch Behar was 80.69% and 80.60% in Jalpaiguri.
And although, Karnataka was off to a rough start, by the end of the day it recorded over 65% voting. An estimated 65% of the 4.62 crore voters in Karnataka exercised their franchise today for 28 Lok Sabha seats in the single-phase polls in which the ruling Congress and BJP are playing for high stakes.
In Manipur, around 74% of the 874,000 voters had cast their ballot for their second Lok Sabha seat at 5pm.
RELATED: How does 'tech-capital' Bangalore get only 35% voters, when violence hit Jharkhand stuns with 62%?
Madhya Pradesh witness incidences of poll violence including reported booth capturing at Pithua and Bakehana in Sagar seat. However, a total of 51.2% voters have exercised their franchise till 5 pm for 10 Lok Sabha seats during the second phase of polling in Madhya Pradesh.
Violence hit Jharkhand, also saw 62% of the electorate vote in the second phase of polling for its six seats. The state also witnessed Maoist violence that left five persons, including 4 CRPF men, injured.
Uttar Pradesh, too, saw a moderate turnout for its 11 seats in the second phase of elections. Over 58.86% polling recorded till 5 pm to decide the fate of 150 candidates.
Maharashtra saw a polling of 55% in its 19 constituencies.
Rajasthan, saw over 63% of 34 million eligible voters cast their ballot in its 20 constituencies. Voting took place in Jaipur, Jaipur Rural, Sikar, Jhunjhunu, Churu, Bikaner, Nagaur, Jodhpur, Barmer, Jalore, Udaipur, Chittorgarh, Sri Ganganagar, Bhilwara, Ajmer, Rajsamand, Pali, Kota, Jhalawar and Banswara constituencies. The polling percentage was much higher than the 2009 figure of some 48.46%.
Over 54% polling, almost 15% more than the previous election, was registered in seven seats of Bihar today in the second phase in the state. Elections held for Munger, Nalanda, Patna Sahib, Patliputra, Arrah, Buxar and Jehanabad seats registered 54.04% at the end of polling at 6:00 pm, EC sources said.