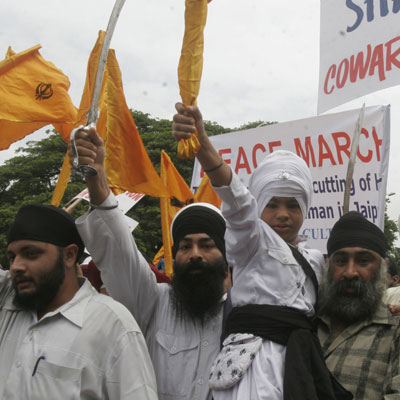 Farmers organisations and farm labourer unions on Tuesday staged protest against the passage of Prevention of Damage to Public and Private Property Bill 2014, passed recently by the Punjab state assembly.
The bill criminalises damaging public, private property in Punjab by protesters during strike, road and rail blockades and will now attract imprisonment and fine.
Describing the Bill as "black bill", the protesters held demonstrations and also burnt effigies of the Punjab government at different places on Tuesday.
Sukhdev Singh Khokri, General Secretary, Bhartiya Kisan Union (BKU-Ekta) said the activists of different organisations marched in 80 villages with black flags and burnt effigies of the state government. Sukhdev also appealed to the Punjab Governor not to give legal sanction to this bill.
Terming the bill as "reminder of imperialistic rule", the protesters demanded its immediate withdrawal.
Meanwhile, the two actions of BKU-BKU (Ekta) and (Ugrahan) decided to hold a joint meeting on July 26 at Ludhiana to chart out further line of action in this matter.