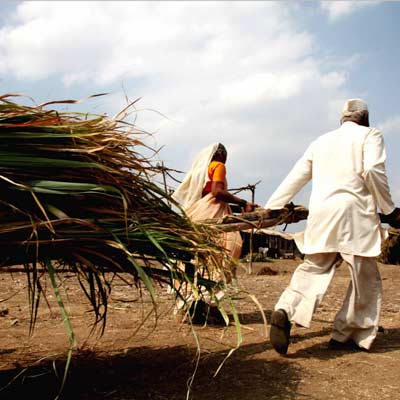 Imagine a Lok Sabha constituency, where farmers tear up at the mention of an irrigation project; a constituency where a plane takes off every ten minutes, but not for civilians, and you have zeroed in on Bidar.
Mention Karanja, and farmers in Bidar will tear up. The irrigation project, built in 1969, with the dam now a popular picnic on the Gulbarga-Bidar highway, is an example of development without people's participation.
Farmers in eight villages that submerged in the backwaters of Karanja reservoir lost over 15,500 acres of land. Displaced farmers that were given first phase of compensation in 1986, spent 40% of it on lawyers for fighting their cases in courts.
As many as 20,000 families have been denied of even basic amenities till today and the 467 houses government sanctioned 467 houses for the oustees in 2008 are yet to be built.
Farmers in the submerged villages did not oppose the project designed to dam the Karanja river, a tributary of river Manjra in Godavari basin, for irrigating 90,000 hectares of dry land in the villages around and supply of drinking water for nearby towns and villages, but are yet to get out of the shock of being displaced in an inhumane manner.
The cruel irony is that the project whose storage capacity was designed for 64 tmc is now reduced to gross storage of 7.691 TMC and irrigates only 38,136 hectares.
As the local airport is restricted for training of Air Force Academy operated by IAF, it is not open for civil operations. Though the Karnataka government has extended full support to expansion of airport, Bidar has been baulked by GMR Group, which has refused to give its assent, fearing that the traffic at its Rajiv Gandhi International Airport in Hyderabad, would be hit. Bidarites, whose hopes were roused by HAL's plans to built a production facility for its helicopters here, saw them crashing as after defence minister AK Antony wanted to shift the facility to his home state, Kerala.
The luckless district, which is backward in education, is now hoping to see development at least after the conferment of special status to the region under Article 371 (J ) of the Constitution, but none is holding is his breath here.