Notorious for taking lives of couples in the name of honour, Haryana panchayats are now mulling inter-caste marriages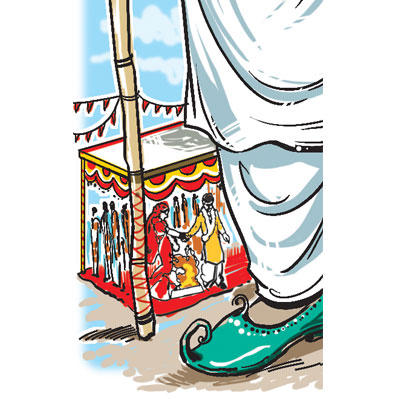 An increasing army of unmarried bachelors despite the rampant import of women as brides from other states like Jharkhand and Kerala has triggered the fear of extinction of Haryana's khap panchyats.
Khaps, notorious for taking the lives of hundreds of couples in the name of honour, are now not only mulling inter-caste marriages between Jats and other castes, including Dalits, but also inter-religion marriages.
Days after the Satrol Khap in Hissar advocated inter-caste marriage between Jats and other castes including Dalits in a cluster of 42 villages, Sangwan Khap of Bhiwani has not only come out in support of Satrol khap's decision, but is also contemplating granting permission to inter-religion marriages.
"It's the demand of time. If our race has to survive, we have to make changes in century old laws which were once made to keep our race pure. Sangwan khap not only supports Satrol Khap's decision of inter-caste marriage, but we are also thinking of granting permission to inter-religion marriages," said 97-year-old Col (retd) Rishal Singh, the president of Sangwan Chalisa.
For all that, Khaps still haven't made any change to the rule on same gotra marriages between Jats. It continues to be considered a cardinal sin.
As per the 2011 census, Haryana's male-female sex ratio is 869 girls per thousand boys. This ratio in Dalit community is far better than other castes especially the Jats (895 per 1000 boys).
A sex-starved army of economically and socially sound upper castes, mainly Jats, are involved in sexual crimes against women, especially against low caste Dalit women. The Hissar gangrape is an example.
Four Jats had raped a Dalit girl which resulted in her father committing suicide.
Out of the 2121 rape cases registered in the state between 2010-12, 70 percent of the victims are Dalit and 60 percent of the accused are Jats. The conviction rate in these cases was a meagre 13 percent.
The number of runaway couples in the state has also been increasing rapidly. In 2010, 366 couples eloped whereas this number reached to 930 and 1345 in 2011 and 2013 respectively.
"Families in Haryana are buying women from other states who belong to different culture and creed, forget caste. If Haryana has to sort out this problem of sex ratio, first, it should stop female foeticide and, second, inter-caste marriages should be allowed.
Satrol khap took a decision after a lot of discussion. Women of Haryana, no matter which class or caste they belong to, at least know the culture and tradition of Haryana, and I think it's high time inter-caste marriges should be allowed on a pan-Haryana basis," said Sudesh Choudhary, woman head of Satrol Khap which took this landmark decision.
Of the total population of Haryana, 25 per cent are Jats and 19.3 are Dalits. Many khap leaders believe that if inter-caste marriage starts on a pan-Haryana basis, families won't have to go bride hunting to other states.
"This is remarkable start especially in a state like Haryana which feeds on patriarchy and complexities of caste and creed. The khaps which were earlier the guardians of Jat pride have understood that if they don't go with the times, it would be hard to survive," said Jamati Sangwan, a social activist fighting for the cause of women's rights.
A case study
Savita (33) is ecstatic while holding her newborn in her lap. She thinks the birth of a child would mend the strained relations between her and her family.
Savita is a Jat. She married Jai Bhagwan, a Dalit. Love blossomed between them in 2007 when Jai Bhagwan, a student activist of Kurushetra university, met Savita at a lecture of maths.
"We fell in love but my family opposed our union and in those days I used to fear for his life because couple-killing was very prevalent, especially after the Manoj-Babli case. In 2010 we married in a court in Rohtak and started living in the city. For the first year and half, we didn't disclose our identities to anyone, not even to our neighbours. My family doesn't talk to me, but now I think after the birth of my child, things will ease between us," says Savita. "I am glad that khaps have started seeing the reality. Although, the decision is inspired by a skewed sex ratio of Jats, it's still a great step because it wouldn't only solve the issue of bachelors not getting girls, but would also bridge the differences betweem castes."