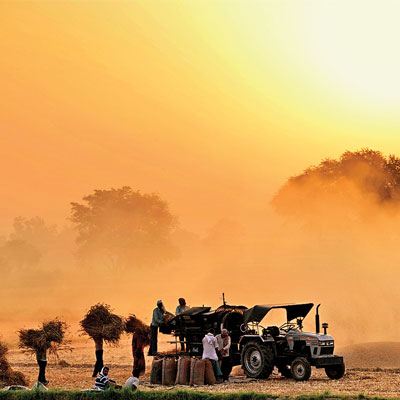 Even before the new government is sworn in, it already has its task cut out, as India Meteorological Department (IMD) on Thursday predicted a below normal monsoon. The prediction could be worrisome for India's agriculture sector which heavily depends on monsoon.
The IMD on Thursday said, "The monsoon seasonal rainfall is likely to be 95 percent of the Long Period Average (LPA) with a model error of ± 5 percent."
Whenever the rainfall is between 90-96 per cent, it is categorised as below normal and rainfall between 96-104 per cent is termed as normal rainfall. Last year, IMD had given a forecast of 98 per cent rainfall but it had exceeded and the country received over 106 per cent rainfall.
It is after four years of normal and above normal monsoon that India this year may face below normal monsoon. Monsoon is a crucial factor for agriculture, particularly the crops such as rice, soyabean, cotton and maize because almost 60 per cent of the farm land in the country is rainfed.
IMD, in a statement released also said, that "latest forecast from a majority of the models also indicate warming trend in the sea surface temperature over the equatorial Pacific reaching to El-Nino level during the South-west monsoon with a probability of around 60 per cent."
Agriculture expert Devinder Sharma said, "Monsoon prediction is worrisome and it cannot be taken lightly" and thus new government already has an important task at its hand from the first day. The new government will have no other option but to tighten the belt from day 1. The warning is loud and clear and thus government officials should start working now and preparing for what could be worrying for our farming sector."
"95% looks comfortable now. A few years ago when rainfall was initially predicted at 94%, at the end it was around 23% deficient. And especially with El-Nino factor coming into play, we should be more careful. More worrisome could be spread of rainfall across various regions," said Sharma.
He suggested that new government can turn it into an opportunity for the country by careful planning asking farmers to grow pulses ensuring that government will procure it form them. "This will ease our dependence on import of pulses and help farmers as well. Also we already have enough stock of rice – about 73 million tonnes – and thus we would not have to worry that," Sharma added.
Another expert DK Joshi said, "There is still uncertainty … we will have to see the rainfall distribution. But yes initially it is it is very encouraging."
"If monsoon fails, growth will be lower and will be challenging (for the new government)," said Joshi while asked about the role of new government that would be sworn in after 2014 Lok Sabha elections would be out on May 16.
IMD's Director General LS Rathore, however, said people should wait to see how El-Nino effect plays out but emphasised on need for planning for the agriculture sector.
"Let's wait for June (to see El-Nino effect). Proper planning for agriculture sector would be needed. It is already in the process," Rathore told dna but added that "we should wait to see how El-Nino effect plays out".
IMD, which holds the customary press conference for announcing the prediction, on Thursday only issued the forecast due to the model code of conduct in place.