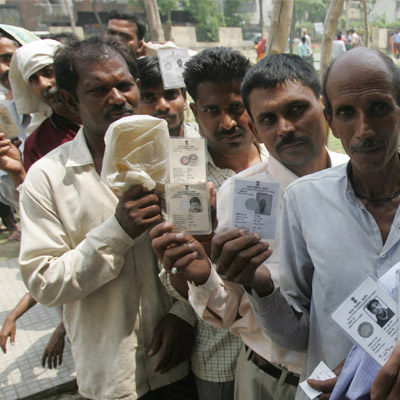 India's lagest and most populous state Uttar Pradesh is a state almost every major political party is keeping a keen eye on, what with 80 constituencies going to polls. The state, with its large number of minorities, a complicated caste arithmetic, and a phalanx of celebrity leaders.
The state which has Narendra Modi, the BJP's Prime Ministerial candidate, contesting from the holy city of Varanasi along with Arind Kejriwal the leader of the Aam Aadmi Party is a state the BJP is focussing a lot of its energies on. Modi himself had positioned his key aide Amit Shah in the state to look at preparations.
Various exit polls have shown different numbers for the state, here's a look at the more important ones.
Times Now- ORG has claimed d In UP, BJP will get 52 seats, Congress 10 seats, BSP 6 seats and SP 12 seats. Elsewhere, ABP -Nielsen has projected 46 seats for the BJP in Uttar Pradesh, probably the most conservative of the exit polls.
The CVoter Exit Polls predicts a bigger win for the BJP with 54 seats to its credit. These exit polls claims the Samajwadi Party will follow the BJP, however with only 11 seats and the BSP will gain eight seats while the Rashtriya Lok Dal will win just one seat.
In the 2009 Lok Sabha elections, the SP and the Congress had won 23 and 21 seats respectively. The BSP and BJP won 20 and 10 seats respectively. Congres' ally RLD had won five seats.