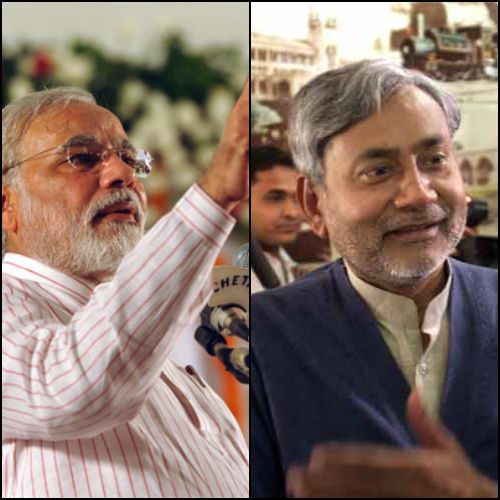 The Exit poll results for Lok Sabha elections have thrown up interesting permutations and combinations. Riding high on Congress' anti-incumbency factor, Bharatiya Janata Party will win maximum seats according to various polls including the CVoters poll, Times Now and CNN-IBN surveys.
While states such as Uttar Pradesh, Bihar, West Bengal have always been non-BJP strong-hold, the newly crafted BJP campaign to present Narendra Modi as the Prime Ministerial candidate has worked wonders for the party. BJP has managed to make a dent into the Mayawati-Samajwadi-Akhilesh Yadav bastion according to exit poll surveys.
Below were the highlights for Gujarat:
BJP will get 22 out of 26 seats in Gujarat, Congress will get 4 seats according to Times Now.
According to CVoter survey, the BJP in Gujarat is predicted to acquire 22 seats, as opposed to Congress which is predicted to gain only four seats. Read more
Below were the highlights for Maharashtra:
According to CNN-IBN, BJP up to about 44% vote share from 38% in 2009 while BJP-SS to secure about 33-37 seats this year. Congress-NCP alliance is down to 34% vote share from 39% in 2009.
Below were the highlights for West Bengal:
TMC 38% of the vote in Bengal, Left parties will get 37% according to Times Now.
*West Bengal has 42 seats. While Congress will win 5 seats, BJP will win 2 seats. TMC will win 20 and form the majority while Left parties will win a measly 5 seats.
As per Times Now Exit polls, Mamata Banerjee's Trinamool Congress is expected to show a rise this election. The party is expected to win 27 seats out of the 42 seats from West Bengal. Read more
Below were the highlights for Jharkhand:
According to CNN-IBN, BJP will jump to a whooping 44% vote share from 27% in 2009. The BJP is expected to win 10-11 seats in this state and the Congress which is in alliance will fall to 21% share from 30% in 2009.
The Jharkhand Vikas Morcha to remain stable at 11% and the vote is supposed to swing towards BJP in North Jharkhand.
In an interaction with CNN-IBN, BJP member Jayant Sinha disagrees, says BJP will win 12-14 seats in Jharkhand.
Below were the highlights for Bihar:
According to a report by Times Now, Pawan Verma, adviser to Bihar CM Nitish Kumar disagrees with 28 seats for BJP, says it will get much less. Panelists trash Bihar figures, say Lalu (RJD) cannot get 0 seats. RJD is projected to get 20% vote share in Bihar but no seats.
According to CNN-IBN, BJP could emerge as the masters of Uttar Pradesh. JDU will finish last with 15% vote share down by 9% from 2009 while in Bihar, Congress which will secure 29% which translates to about 11-15 seats in this state.
Below are some statistics from Uttar Pradesh by CNN-IBN
*The Congress is down to 10% vote share from 22% in 2009. This translates into only 3-5 seats for the Congress
*The ruling SP to have about 24% vote share which translates to 13-17 seats for this party
*Mayawati led BSP down to 21% from 27% in 2009. It translates to about 10-14 seats for the BSP in Uttar Pradesh
*The congress to win about 24% vote share which translates to 1-3 seats
*The BJP to win about 29% vote share which makes about 3-7 seats
Read: Exit Polls predict big win for the BJP in Uttar Pradesh
Predictions for total 80 seats in Uttar Pradesh by 4 exit polls pic.twitter.com/6Uu3gNnMZS

— TheNewsMinute (@thenewsminute) May 12, 2014
Maharashtra total 48 seats, Projections by Five exit polls pic.twitter.com/PXfHE9Jg8s

— TheNewsMinute (@thenewsminute) May 12, 2014
Gujarat total 26 seats, projections by 4 exit polls. pic.twitter.com/3Xxo6b8Uvd

— TheNewsMinute (@thenewsminute) May 12, 2014
Gujarat total 26 seats, projections by 4 exit polls. pic.twitter.com/3Xxo6b8Uvd

— TheNewsMinute (@thenewsminute) May 12, 2014
Jharkhand projections by all channels now. pic.twitter.com/lfMc1EGo0P

— TheNewsMinute (@thenewsminute) May 12, 2014
West Bengal Projections till now- pic.twitter.com/eOR96kY9Jp

— TheNewsMinute (@thenewsminute) May 12, 2014
BJP-led NDA leads in exit polls, set to oust Congress: Jaya, Mamata big winners http://t.co/cgAjikdyLv pic.twitter.com/8BeLZhOgxw

— TheNewsMinute (@thenewsminute) May 12, 2014
Uttar Pradesh. Total seats- 80. Projection by five exit polls pic.twitter.com/xetlQ2Rn3p

— TheNewsMinute (@thenewsminute) May 12, 2014