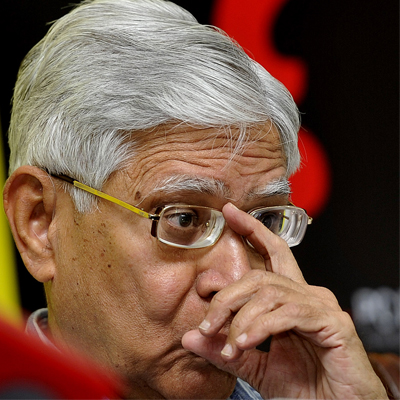 Former Coal Secretary PC Parakh, booked for allegedly abusing his official position to grant a coal block to Hindalco, will be appearing before CBI for questioning on Thursday.
The CBI served a fresh summon to the former bureaucrat for appearing on May one as he had expressed his inability to appear on April 25.
Parakh said that he would be appearing before the agency on May one. "I have received a notice and I will be appearing for questioning on that date," he said.
The 69-year-old former bureaucrat, who retired as Coal Secretary in December 2005, has been accused of abusing his official position to grant a coal block to Hindalco, a company of Aditya Birla Group.
CBI had last year registered a case against Parakh, Birla, besides unnamed officials of Hindalco and the Coal Ministry.
The agency alleged that during 2005, these persons had entered into a criminal conspiracy and the then public servant (Parakh) abused his position and showed undue favour to the Odisha-based industry in allocation of Talabira II and Talabira III coal blocks.
The move to quiz Parakh comes after former Minister of State for Coal Dasari Narayan Rao and the Prime Minister's Advisor T K A Nair were questioned by CBI.
Parakh was in news recently after release of his book on coal blocks allocation in which he had questioned the rationale of the CBI to name him or Chairman of Aditya Birla group of companies Kumar Manglam Birla.
He also questioned the decision-making of the agency chief in not naming Prime Minister Manmohan Singh as an accused as the Coal Ministry was under Singh's direct charge when Talabira-II coal block in Odhisa was given to Hindalco.
According to the FIR, Neyveli Lignite Limited was to be given Talabira II block but Parakh allegedly favoured Hindalco and allowed it to share the block with Neyveli leading to notional loss to the exchequer.
CBI has alleged that Parakh, after meeting with Birla, had changed the decision of Screening Committee, which had alloted the Talabira-II coal block to Public Sector Undertaking (PSU) Neyveli Lignite Limited.
Parakh has denied any quid pro quo as alleged by CBI in its FIR about his meeting with Birla and also maintained that there was no pressure exerted by the PMO in clearing the deal in favour of the Birla group.
CBI has also completed examining top executives of the Rs 2.4-lakh-crore Birla company in connection with the allocation, sources said, adding, however, no decision to summon the group's chairman has been taken so far.
Registration of a case against Birla and Parakh was criticised by India Inc and former bureaucrats. However, CBI said a decision on filing a closure report or a charge sheet will be taken by it after completing the investigations in the case.
Hindalco has denied allegations of irregularities.
"We wish to state unambiguously that we have followed every process required for allocation of coal completely, as stipulated by the government policy," it had stated.