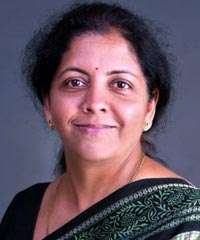 BJP leader Nirmala Sitharaman who is part of 45-membered Narendra Modi's cabinet assumed charge as Minister of State (Independent Charge) Commerce and Industry on Tuesday.
After taking charge she said, "There are lot of things happening in this Department which should be taken forward with greater enthusiasm given the impetus with which the Prime Minister Narendra Modi would like the Department to function."
She further added that she feels very humbled to have been given the responsibility of such an integral cabinet. "I will give best of my time to improve economic and commercial ties with India's trading partners," added Sitharaman.
Nirmala's focus areas include improving Indian exports and ensuring job opportunities for youth. This holds important for the BJP government as Narendra Modi had centered most of his speeches before elections on these lines. Even BJP Manifesto had spoken about providing jobs to youth.
"The economic situation in this country demands that more jobs be provided for the young, talented, well-educated and even the semi-skilled and unskilled people of India," added Nirmala.
The 54-year old Minister said BJP has already clarified its position in the election manifesto on this politically sensitive issue.
On the issue of Foreign Direct Investment (FDI), she said that there will not be a "blanket approach" for every sector and that each and every sector would be looked in a "very, very calibrated fashion".
We have explained about FDI in multi-brand retail that it probably is not best opened up now, because medium and small sized traders or small farmers have not been adequately empowered... if you open up the floodgates of FDI in MBR, it may affect them," she told.
Sitharaman, the first ever woman Commerce Minister, was responding to a question whether the new government would revoke the current FDI policy of allowing foreign investment in multi-brand retail.
The BJP manifesto had earlier said that barring the multi-brand retail sector, FDI will be allowed in sectors wherever needed for job and asset creation, infrastructure and acquisition of niche technology and specialised expertise".
Although the previous government had allowed 51 % Foreign Direct Investment (FDI) in multi-brand retail, only one investment proposal of UK-based Tesco was cleared by the earlier government.