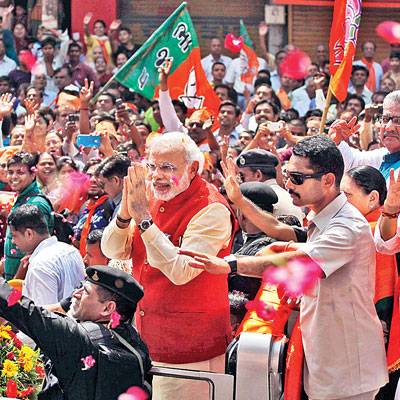 Saffron ruled the streets as Gujarat chief minister and BJP's prime ministerial candidate Narendra Modi filed his nomination from Vadodara Lok Sabha seat on Wednesday.
Thousands lined up in Vadodara to givea royal welcome to Modi, who was aptly dressed for the occasion in acream kurta-pyjama and a saffron-coloured koti.
Euphoric crowds lined up along theentire 2-km route of the procession from Kirti Stambh to the district collectorate since early morning. The rally started almost an hourafter the scheduled time of 9.15am, but the delay hardly bothered the swelling crowd. They were there to see their leader and they were not disappointed. They waved, cheered, shouted slogans and showered him with flower petals. At many places along the route, pujas were performed to welcome him.
Flanked by his trusted aides in an open jeep, Modi appeared to be enjoying every bit of the adulation and the attention he was receiving. He cheerfully waved back at the crowd.
The procession reached the district collectorate at around 11.40am, where Modi filed his nomination a few minutes later. He was accompanied by senior BJP leaders and the head of the royal family of Baroda Shubhangini Raje Gaekwad when he handedover the nomination papers to Vadodara collector and returning officer Vinod Rao.
Addressing media-persons after filingthe nomination, Modi said that he was thankful to citizens of Vadodara for the grand welcome. "I have an opportunity to becomethe representative of Vadodara, and I feel fortunate that the party has chosen me for this. I have faith that people of Vadodara will vote in large numbers for the BJP," said Modi.
The BJP's prime ministerial candidate also showered praises on Sayajirao Gaekwad, the erstwhile ruler of Baroda, saying he had done pioneering work in girls' education, water conservation and setting up of libraries. "His views of swaraj and suraaj are an inspiration for administrators even today," said Modi.