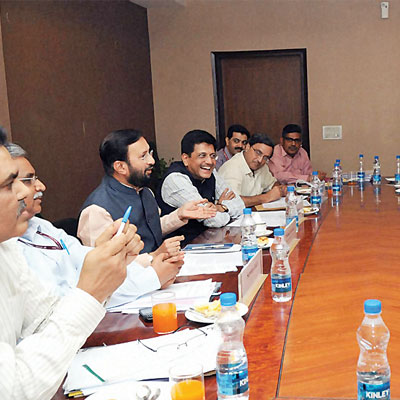 The environment ministry will no longer be the "roadblock" in India's growth as a group comprising ministers of environment and forests, coal, power and steel met Tuesday afternoon wherein they decided to take "concrete policy measures" to remove roadblocks and fast track clearance process.
The controversial violate and inviolate forest policy that disallows any activity like mining or any other industry in a particular forest would also take a concrete shape within next 50 days to end the uncertainty over several stuck coal blocks.
Apart from the ministers, there were senior officials of the departments in the meeting as well. "All issues related to coal blocks, steel, environment and forest clearances were comprehensively discussed. It was decided that projects will be fast tracked, within the boundaries of law, to increase coal and steel production amongst other issues," a senior environment ministry official told dna.
The decision, official said, is keeping in line with PM Narendra Modi's plan of fast and effective governance. These meetings will also put an end to era of war that plagued UPA-II wherein key ministries like coal, power, highways and environment were always at loggerheads over green clearances.
The group meeting, under the chairmanship of Union steel minister Narendra Singh Tomar, was not a one off process and instead would be developed as a routine feature as the ministers decided to meet at least once a month to discuss the important issues regarding their ministries. The steel minister also gave Javadekar a list of steel projects that are stuck with MoEF to expedite the clearance process.
Another top level environment ministry official remarked that such meetings are a welcome change from past where policy decisions were stuck for months with bad blood amongst various government departments. "It was a very useful and cordial meeting. Here till now it seems everyone is on board to push growth … no one till now seems to be taking it as turf war … all ministers were just focusing on ironing out of policy issues," the MoEF official added.
Union coal, power and renewable energy minister Piyush Goyal, who was also in the meeting said, showered lavish praise on environment minister Prakash Javadekar for faster decisions on clearances in the latter's ministry. "It was a follow up of our last month's meeting and several issues were discussed. Today's meeting was productive and was decided that once a month we will meet formal and informally so that work can be expedited," said Goyal stating that issues related to new and renewable energy, coal, power, iron and steel issues would be taken care of.
"There are number of mines which are sub-judice and we have to respect the law of the land …so the subjudice matter cannot be taken or discussion … we are hoping that they get resolved and we will then act expeditiously depending on the court verdicts," Goyal said.
Asked, if any, decision was taken on the contentious issue of violate-inviolate policy, earlier known as go and no-go, wherein some sections of forests were marked out of bounds for undertaking any mining activity or developmental work like industry or highways.
"That has caused lot of anguish … because of this lot of coal mines are stuck and lot of coal production is delayed. I am happy to inform that MoEF has got down on setting standards and guidelines to determine inviolate areas. By August first draft would be ready for further consultation and approval," Goyal explained.
During Jairam Ramesh's tenure as the environment minister in UPA-II, MoEF had started the concept of "go-no go" marking some forest areas as "no go areas" meaning disallowing any development work like mining there. However, a group of ministers (GoM) headed by former finance minister and now president Pranab Mukherjee had shot down the policy.
The GoM then in early 2013 had asked MoEF to constitute another body to scientifically identify forest areas that can be marked as inviolate areas. However, MoEF's report identifying 'inviolate' forest areas across India - this time covering all kind of mining activities - also met strong criticism as it was felt the new policy would restrict mining over a much larger area. Since then the policy was on back burner treating every proposal seeking forest land on case to case basis.
During this time, several blocks of dense forests, which if inviolate policy had been in place would not have got forest clearance, were cleared. For instance, coal blocks in biodiversity rich Hasdeo-Arand in Chattisgarh were given in absence of such a policy.