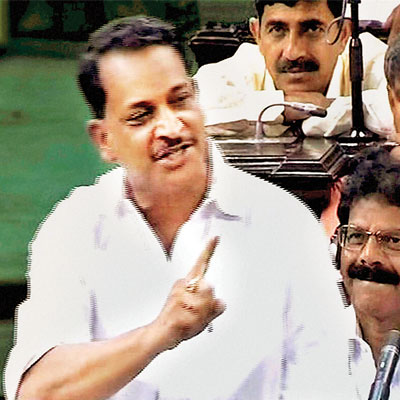 The question was how would BJP project itself in Lok Sabha where it has a majority and in Rajya Sabha where it is still in a minority. The occasion was the Motion of Thanks for the President's Address to the two Houses of parliament, which opened on Tuesday morning.
The BJP fielded Rajiv Pratap Rudy, who started off on a eulogistic note, praising prime minister Narendra Modi as the man the party and the country chose to lead. He said that the people placed their faith in Modi, he taunted the depleted Opposition, especially the Congress, assuring them that Modi and the government will take the opposition along. "Pradhan mantri bade dil ke hai (the prime minister has a big heart)," he said. He said that there were three great leaders from Gujarat, Mahtama Gandhi, the "shanti purush (man of peace)", Sardar Patel, the "loh purush (Iron Man)" and now Modi, the "vikas purush (Development man)".
Rudy, for the first time, acknowledged the contribution of BJP's ideological mentor RSS' role in the BJP's electoral victory. He said that the RSS workers who had no identity because he had no membership (the RSS has no official membership) and described them as "sneh, shubh chintak (friendly, well-wishers).
Leader of the House in Rajya Sabha and Union finance minister Arun Jaitley's speech was a tempered one. He said that there was need not to be arrogant in victory and bitter in defeat. He was indirectly cautioning that while BJP has every right to celebrate, it cannot be triumphalist. "The winner must never be arrogant. He is a trustee of the political mandate. The loser cannot be bitter. He must be gracious."
Sitaram Yechury, the CPI-M leader in Rajya Sabha said that he was reminded of the Hollywood movie "Hangover" looking at the mood of the BJP and Congress. He said that the President's speech did not inspire confidence. Referring to the idea of creating 100 new cities, Yechury reminded that "It is economic development that will lead to development of cities. Building new cities will not lead to development."
In Lok Sabha, leader of Congress Mallikarjun Kharge told the BJP not to look down upon the small number of the Congress in the House and said that his party polled 10 crore votes and this was no small number.
He also gave the Mahabharata analogy, where the Pandavas were a mere five compared to the 100 Kauravas. He criticised the government's economic outlook as one favouring the rich and ignoring the poor.