Kadapa MP to be tried under Criminal Money Laundering Act as well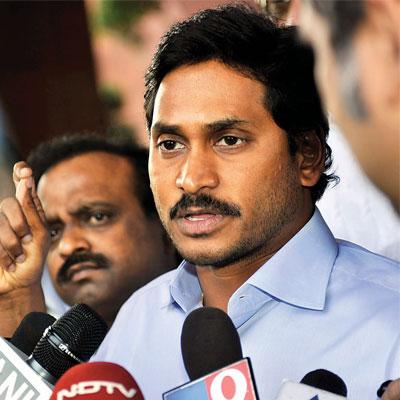 The Enforcement Directorate on Wednesday seized documents and attached properties and assets worth Rs863 crore allegedly amassed by YSR Congress president Y S Jaganmohan Reddy and his associates in the infamous Vanpic case. This is one of its biggest criminal actions in a money laundering case in the country.
The Enforcement Directorate said in a statement that this was the third seizure of properties in connection with the CBI probed disproportionate assets case of the Kadapa MP. The agency slapped separate notices against Jagan and Nimmagada Prasad whose companies were allegedly favoured by the then AP government (when Jagan's father Y S Rajasekhara Reddy was chief minister) in the Vadarevu and Nizampatnam Industrial Corridor (Vanpic) project whose aim was to develop sea ports and a green field airport in coastal areas of the southern state and industrial corridors in Prakasam and Guntur districts.
The ED action was directed towards the properties of Jagan's companies -- Carmel Asia and Jagati Publications – which published the Telugu daily Sakshi. ED action also included seizure of properties of Gilchrist Investments Suguni Constructions and Beta Avenues, owned by Nimmagadda Prasad, popularly known as Matrix Prasad, who was allegedly Jagan's front man in the Vanpic scam (project to build a port and also an SEZ over 6,000 acres of coastal Andhra). Prasad spent over 18 months in Chanchalaguda jail along with Jagan and is now out on bail on medical counts.
An ED spokesman detailed the seizure of properties of Jagan as plant and machinery of Jagati Publications, fixed deposits of Rs4.14 crore in Jagati, Rs100 crore worth shares of Indira Television which owned the Sakshi TV, Jagan's personal assets of Rs 11 crore, his share Rs57 crore in Sandur Power Co (hydel power project in Karnataka) and Sandur company's assets of Rs35 crore. The ED also attached 561 acres belonging to the Vanpic Port and also 855 acres of Vanpic project both held by Prasad 's company.
The ED spokesman said the Kadapa MP will also be tried under CMLA (criminal money laundering act). The CBI has filed 10 charge sheets on Jaganmohan Reddy so far and has charged him with amassing nearly Rs1,340 crore by using office of his father, former chief minister YS Rajasekhar Reddy, through a quid pro quo route.
Speaking about ED seizures, YSRC spokesman M V Mysura Reddy said the actions of the ED and the CBI were just an evil design and political vendetta of the Congress party. "The Congress has let off TDP chief Chandrababu Naidu for grave crimes but is gunning only for Jagan as he is politically potent to ruin the party in both Seemandhra and Telangana," he said.
Incidentally Jagan launched his successful campaign meeting in Khammam town in Telangana on Wednesday.Though some Telangana activists tried to disrupt his meeting it had attracted over 10,000 people. Jagan plans to hold several public meetings in other Telangana towns in days to come.