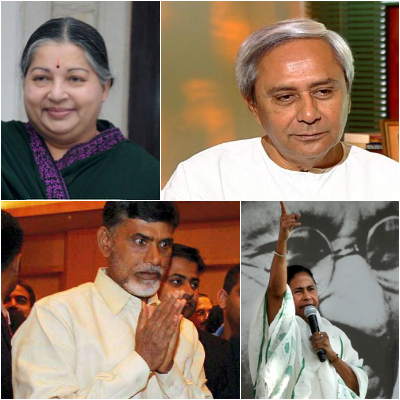 As the vote counting process of the general elections 2014 went underway at 8 am on Friday, May 16, BJP and Congress emerged as main players as expected. But, the regional parties had their own share of cake in the wee hours of counting.
Odisha's Biju Janata Dal is leading in 14 constituencies out of 21 of the South Eastern state. This increases the possibility of Naveen Patnaik becoming the chief minister of the state for a fourth stint.
In Tamil Nadu, J Jayalalitha may bag another election with the way AIADMK is leading in 27 constituencies out of 39.
Mamata Banerjee's AITMC has a lot of fans in the state of West Bengal as they lead the counting in 26 out of 42 constituencies.
Losing its fandom in the critical state of Uttar Pradesh, Samajwadi Party has managed to lead only in 7 constituencies.
As the state is set to be divided on June 2, Andhra Pradesh is witnessing different parties leading from Telangana and Seemandhra. The Telangana Rashtra Samiti which has been loyal all this while to the cause of Telangana is without doubt leading from the region while Telugu Desam party leads in Seemandhra. The latter increases the chances of Chandrababu Naidu becoming the chief minister of the new state of Seemandhra.