With 40 seats in the Lok Sabha, Bihar is expected to witness an eclectic contest among political stalwarts to emerge as the largest party or alliance in the state. Bihar BJP leader Sushil Kumar Modi, who claims that the BJP's support base has increased across sections of society, tells dna's Ashutosh Kumar that people will rise above caste considerations in Bihar in the race for the 2014 general election.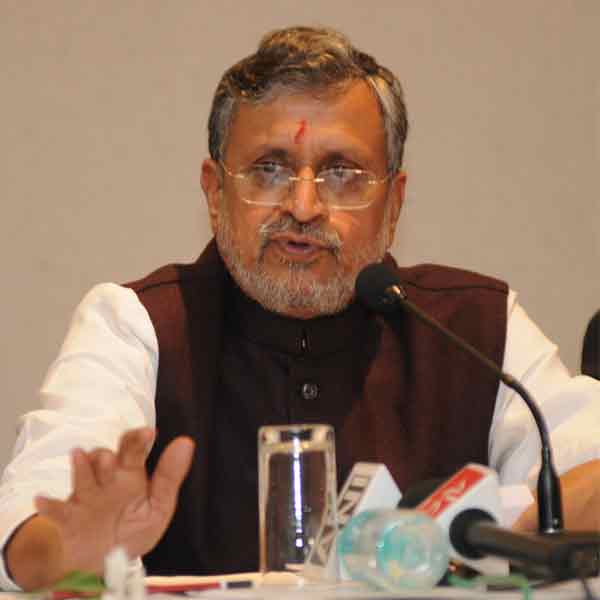 dna: BJP's prime ministerial candidate Narendra Modi is essentially perceived as a corporate poster boy. How does BJP plan to project him in the state in run up to the Lok Sabha election, and how do you think he will manage to garner votes for the party with that image?
Sushil Modi: Your description of him (Modi) is our opponents' attempt to create that image. But this is not his (Modi's) image in Bihar, or for that matter, anywhere else in India. Gujarat, which Modi took forward, has been progressive in industrial growth and business for a long time. His image is that of a person who believes in development, and of a strong and honest chief minister. The message that has gone to Bihar about Modi's image is that he is a poor man's son. It is also true that our opponents invoke the memories of Gujarat riots to mislead the minorities in Bihar. But it is also true that there has not been a single riot in the last 11 years, and in Gujarat, the economic condition of Muslims is better than in any other state.
dna: BJP is essentially seen as a party of the upper caste and upper classes. Are you confident that the party will garner strong support in the state?
SM: This is an old image of the BJP — that it is an urban, middle-class and upper caste party. Every cross section of the society is reflected in the BJP. Of our 91 MLAs in Bihar, nearly 65 are from the rural areas. The number of upper caste MLAs is 20-25. So, nearly 70-80% of our MLAs are from among the dalits, mahadalits, backward classes, and extremely backward classes. We have tried to bring together people from all backrounds. If you look at Lalu Prasad or Ram Vilas Paswan's support base, they also realise that nine Paswan MLAs are in BJP, while Ram Vilas Paswan does not have a single Paswan MLA. So while the leaders claim that a particular community is committed to them, people from the community are clear in their minds that in the Lok Sabha election, they will vote for Narendra Modi. If you look at the block level, we have instituted committees for extremely backward classes. We have brought the Muslims also under our fold. So, this image is not correct in the context of Bihar. And the message that we are clearly sending is that a person belonging to a poor background is a strong contender for becoming the country's prime minister without any patronage.
dna: How has your party's support base in the state increased since 2005?
SM: I would say the extremely backward classes and mahadalits have come under the BJP. We had been working with them and have penetrated these communities to increase our worker and support base among them. We have been very successful in achieving this.
dna: With this expanded support base, how many seats do you expect to win in the state in the upcoming Lok Sabha elections?
SM: I would not like to predict any numbers. But the BJP is the single largest group in Bihar. We have 12 MPs now, and we are contesting 25 new seats in the upcoming elections. We will emerge as the biggest group.
dna: Does likely Congress-RJD alliance pose a challenge for the BJP in the state?
SM: This may be an alliance of the leaders, but their support base will never ally together. Yadavs are Lalu's key supporters, but we often hear the Yadavs say that since Lalu will not become the prime minister, they will vote for Modi and will later see what happens in the 2015 assembly elections. We can also see that people will rise above caste considerations when they vote. The mood of the people is pro-development.
dna: Where do you see your ex-ally, Bihar chief minister and JD(U) leader Nitish Kumar in electoral equations?
SM: The people of Bihar wanted the (BJP-JDU) alliance to continue and wanted Narendra Modi to become the prime minister. With the break-up of the alliance, our USP of good governance was compromised. Also, a huge chunk of BJP supporters has turned against him (Nitish). The people of Bihar are angry with JD(U) because they gave a mandate to run the alliance government for five years. And at that time, Narendra Modi as PM was not an issue. Now, there is no support left for Nitish. He will end up in the third place in Bihar. The fight will be between BJP and the RJD-Congress alliance.
dna: Do you see a tough opponent in the RJD, and won't rule out the Lalu factor in Bihar?
SM: RJD has a strong votebank and a good support base. But Lalu has to give an explanation daily. He is at pains to explain that the Yadavs are being misguided. You have to understand that other parties cannot win elections only on the basis of pointing out the more-than-a-decade-old Godhra issue. But yes, the main contest in the Lok Sabha elections will be between RJD and its allies and the BJP; the JD(U) will decline and have less than 20 seats.
dna: In your view, what are the Congress-RJD alliance's strengths?
SM: Their alliance will be based purely on the caste factor. They think that this kind of alliance will garner them the Yadav and Muslim support. But as I have already said earlier, the dynamics of this election will see a sea change. Now, elections cannot be fought only on the basis of caste-based alliances.
dna: Coming back to Modi, how is he perceived in the party, which had earlier been divided on the issue of his leadership?
SM: Leadership is very important to win an election. BJP's workers and supporters have got a leader with a clean image and who can win votes. The vaccum that had been created after Atal Behari Vajpayee left has now been filled. The party stands behind Modi. And as is the case in the BJP, once a decision is taken, people toe the line.