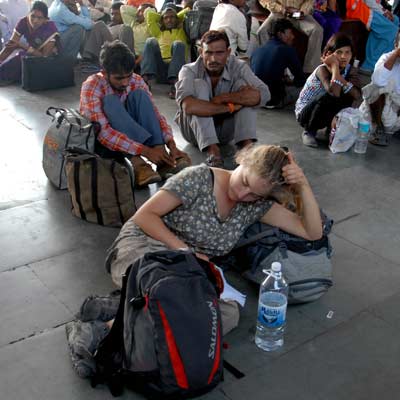 With the Lok Sabha elections in full swing, foreigners are arriving in India to witness the political proceedings of the country. Keeping this fact in mind, EC has launched an election tourism programme for 50 foreigners from 20 countries.
This is the brainchild of Manish Sharma, who is the chairman of the Tourism Development Board, more and more foreign tourists are said to be visiting India with the sole purpose of witnessing the elections.
Also, officials from election commission of Namibia are closely monitoring Indian elections by travelling across the country with aid from ECI.
Indian elections which are spread over nine-phases see a huge voter turn-out to select India's next government and many foreigners want to witness the huge political shift.
This holds excitement and suspense as the country's mood is palatable with two mainstream parties, Congress and BJP attacking each other while a third-front is trying to dislodge their supremacy.
This 'Election visitors programme' by Election Commission is meant to help the Namibian government officials understand the process of general elections in World's largest democracy.
The team was sent to Karnataka to understand the elections on ground level by EC.
Under this programme in association with Election Commission of India and UNDP, around 50 officials from Election management bodies of 20 countries will be touring the country to understand how EC micro-manages the election process.
The United Nations Development Programme (UNDP) has signed an agreement with the Election Commission of India, allowing officials from 17 countries to visit India during the elections.
Representatives from countries such as Nigeria, Namibia, Lesotho, Malaysia, Mauritius, Nepal, Uganda, Kenya, Bhutan, Syria, Egypt, Tunisia, Saudi Arabia, Tunisia, Morocco, Somalia, Palestine, Palestine, Iraq and Oman are part of the campaign.
They were allowed to witness Delhi elections alongwith field-level exposure to elections at different venues.
"The ultimate purpose is to learn how the election commission conducts free and fair polls using Electronic Voting Machines (EVMs)," said a UN official to Al Jazeera.
Election tours include visits to a campaign rally and office of political parties. Most of the high-profile leaders are campaigning across the country.