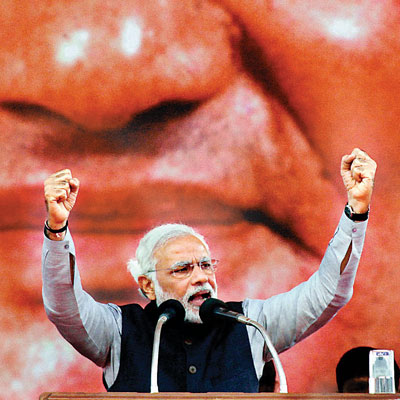 The unusually-cold winds blowing through Uttar Pradesh in March notwithstanding, the political temperature in the state went up several notches on the "Super Sunday" of rallies as Narendra Modi railed at Mulayam Singh Yadav. The BJP prime ministerial candidate's comments drew an equally vociferous response from Yadav, who, during his Allahabad rally – attended by over 2 lakh people - said Modi was directly responsible for the alleged massacre of Muslims in Gujarat in 2002.
Addressing a crowd of 15,000 in Kanpur, a comparatively meek Arvind Kejriwal tried to raise his voice about everything that is allegedly wrong with Indian politics, politicians and political parties et al. The Aam Aadmi Party gave indications that Kejriwal could contest against Modi from Varanasi. Though Modi has not officially announced the seat from where he would contest the Lok Sabha polls, BJP sources said Varanasi has been finalised for him.
The BJP managed to put up its biggest show ever in Lucknow to welcome Modi to the capital of the politically and electorally most crucial state in the country. Independent estimates suggest around 5 lakh people attended the rally, but the BJP claimed it brought in 15 lakh people. The party booked 29 trains to ferry crowds from other parts of the country while 4,500 buses and over 2,500 smaller vehicles were used to ensure a "sea of saffron" (as Modi said) at the Ramabai Ambedkar ground. UP BJP chief LK Bajpayee said the party had broken the myth that only the BSP could fill up this ground with a capacity of about four lakh for Mayawati's rallies.
In his 45-minute speech, Modi used most of his lungpower against the SP regime in UP. He indulged in poetry and recited Urdu couplets in keeping with the cultural tradition of Lucknow. The Gujarat CM worked up this imagery to lash out at the ruling SP for the poor law and order situation in UP. "Now one doesn't hear musical scores, but the threats of 'goondas' and mafias. The musical notes have been replaced by the sound of 'katta' (country-made firearm) and guns. Instead of the 'thaap' (beat) of the 'tabla', one can hear the sound of 'thappad' (slaps). The serene Gomti has been reduced to a nullah," he said.
The BJP's prime ministerial candidate also came up with a strong riposte to Mulayam's claims on development in UP which the latter made during his Allahabad rally which ended 15 minutes before Modi's. "Netaji, (Mulayam), you can't challenge me on development. The annual per capita income in UP is Rs26,000. In Gujarat, it's Rs75,000. Power has reached only about 10,000 villages in UP. In Gujarat, there is cent per cent rural electrification. In UP, 40 per cent families get electricity. In Gujarat, this figure is 99 per cent," he said.
He also pointed at Mulayam's proverbial Achilles heel, saying for the SP, Muslims are just a votebank and that its government did nothing concrete for them. "In Gujarat, we have a Haj quota of 4,800 and we get over 38,000 applications. In UP, this quota is 32,000, but there are only 35,000 applications. This is because the Muslims in UP remain poor," Modi said.
Yadav was scathing in his criticism of the Gujarat CM. "The BJP is now asking for forgiveness. After organising their massacre, they are trying to make a fool of Muslims. Do they think Muslims are foolish?" he said. The Samajwadi Party chief said Modi was going around touting the so-called Gujarat model of development. "What is this model? In Gujarat, as much as 35 per cent of women and 50 per cent of children are malnutritioned. According to a national survey, the dirtiest rivers in the country are in Gujarat. Is this what he calls development?" he asked.
Mocking at Modi's recent taunt that to develop a state on the lines of Gujarat, one would need "chhappan inch ka seena", Yadav said he visited Gujarat after the 2002 riots. "Modiji tried to threaten me by saying that I should not come as he could not guarantee my security. But I went there despite that. Now, Modiji, you can well imagine the size of my chest," he quipped.
At Modi's rally, the stage backdrop had a huge portrait of former PM Atal Bihari Vajpayee, making it clear that Team Modi was desperate to conjure up the Atal magic to project him as the future PM. In his address, Modi brought back memories of Vajpayee, who represented Lucknow for five consecutive times in the Lok Sabha from 1991 to 2004.
Meanwhile, Kejriwal said AAP would win at least 100 Lok Sabha seats and that "no government would be formed without AAP support".
"How does a tea-seller go around in helicopters now?" he said, referring to Modi. He alleged Mukesh Ambani was pumping money in the BJP campaign. "Each Modi rally costs Rs50 crore. Where do you think the money is coming from? Modi never speaks on FDI or (Sonia Gandhi's son-in-law) Robert Vadra."
The AAP leader said Congress is the most corrupt party and pointed out that over 100 riots took place under Akhilesh Yadav's regime.
Modi's claims
150 riots in UP in a year. In Gujarat, there has been no curfew or riot in the past 10 years
45% of serious crimes in the country are committed in UP
20,000 cases of crimes against women in UP in one year
240% increase in crimes in a year