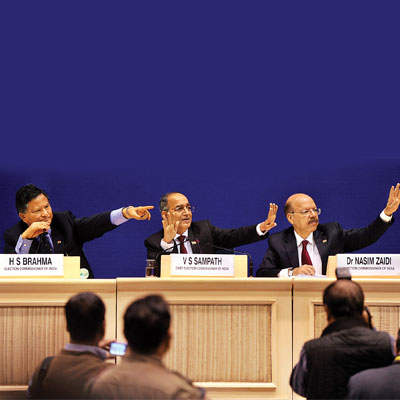 Election Commission, the watchdog for 81.7 crore electors, who would soon make use of their potent weapon - the ballot to choose the next government, has drawn up an exhaustive plan to check the use of muscle and money power that politicians often use to impact the number game.
"The use of money power is one of the foremost challenges, particularly in some states," said chief election commissioner VS Sampath.
Based on incidents during past elections and complaints, the EC has identified Andhra Pradesh, Punjab, Uttar Pradesh, Karnataka, Chhattisgarh, Tamil Nadu and Delhi as major violators, where it will send additional observers and central forces in advance to check the menace.
Several constituencies in these states have seen a sharp increase in the amount of money being spent by the candidates to lure voters during past few elections. Besides catching violators through its squads, EC office has also been flooded with complaints alleging candidates luring voters by offering cash and booze during election campaigns.
"We are deputing additional expenditure observers in advance to control the use of money power. To perform their duty without fear, they will be given adequate protection of paramilitary forces," Sampath said.
"Flying squads will be stationed in vulnerable constituencies of these states," said Sampath pointing out that In addition, media certification and monitoring will also be used to keep a close watch on expenditure.
To ensure fair play, the commission, instead of relying on state police has decided to deploy IPS officers as Police observers at State and district level in sensitive constituencies to monitor all activities related to force deployment, law and order situation and coordinate with civil administration.
Sampath, however, admitted that ensuring the expenditure ceiling of Rs70 lakh was not breached by the candidates was one of the biggest challenges faced by the poll panel.
Besides, the EC has roped in department of telecommunication, BSNL and MTNL to ensure effective multi-mode communication system to track events uninterruptedly on each polling day.
In addition, the EC has also asked all the chief electoral officers to coordinate with state telecommunication department, BSNL, MTNL and other leading service providers to ensure maximum communication coverage and identify shadow areas so observers could be equipped with wireless equipment.
To help ferry over 2 lakh personnel of paramilitary forces deployed for election duty, the EC has asked the Railways ministry to run special trains for timely inter and intra-state movement.
"It promises to be one big African election...It will go on and on and on and on and on... My attitude is opposite. I would have made it proud, short, snappy and sweet," MS Gill, former chief election commissioner
"I do not think these elections will be by far the most violent. There will be sporadic incidents but nothing like the communal conflagration some people are predicting of, SY Qureshi, former chief election commissioner