Muslims globally come together on the 10th day of Dhu al-Hijjah (Islamic month) and celebrate Eid al-Adha or Bakri Eid with grandeur and spirit to celebrate the underlying belief that culminated the festival.
The festival is marked by the sacrifice of animals (goat, sheep, camel, buffalo).The sacrifice is also known as qurbani.
Significance
The historical references to this festival comes out of an intriguing tale. According to many Islamic beliefs, Prophet Ibrahim was ready to sacrifice his first born son Ismaeil when God put him to test and asked him to give away the one thing that was dearest to him.
It was on the altar at the mount of Mina near Mecca as he was on the point of applying the sword to his son's throat that it was revealed to him that this was just a test.
Therefore, Bakri Eid commemorates the mental strength and agony of Prophet Ibrahim. It is in his honour that Muslims all around the world offer prayers, sacrifice animals and beg for forgiveness to show their faith, submission and allegiance to God.
Bakri Eid also marks the end of Haj for all the pilgrims who have travelled to Mecca. Sacrifice of goats, sheep or camels begin the celebrations of completing Haj. Haj is considered to be an extremely holy journey among the Muslims.
In India, the most common sacrifice is the goat which is why the festival is also coined as Bakri Eid.
After completing Haj, the pilgrims (only men) have to shave their heads after they sacrifice an animal in the grounds of Mina. Women cut a portion of their hair too.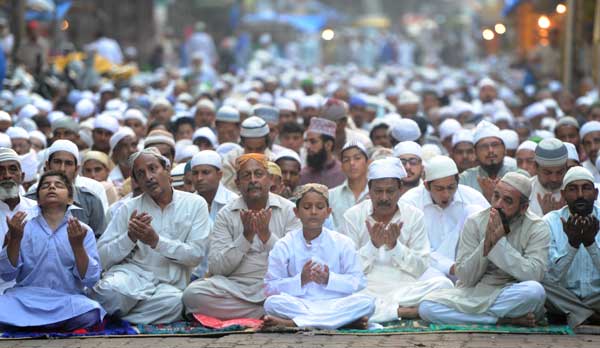 In India, the day begins with a bath and then prayers are offered as a symbol of faith. Every Muslim, either individually or collectively have to sacrifice an animal. The meat is then distributed in three portions. Some to be kept for personal consumption, some to be distributed among the family and the rest to be given away to the needy.
The spirit of sacrifice truly explains this Eid. It is an occasion that encourages giving and gives a chance to thank the almighty for all that he has bestowed upon us.
Apart from sacrifice, relatives and friends visit each other and exchange gifts. Special delicacies and dishes are prepared and served amongst family and friends.
Many Muslims gathered in mosque today all over India to offer prayers and sacrifice to Allah. They greeted each other Eid Mubarak and exchanged hugs and sweets.
[Pics] Bakri Eid, also known as Eid al-Adha, celebrated across the world

Political leaders send their greetings on Bakri Eid
The Prime Minister in his message said that Id-ul-Zuha celebrates the spirit of sacrifice of Hazrat Ibrahim.
"The festival is an occasion to reaffirm our faith in the unity of humanity and to be charitable towards the disadvantaged and the needy. May this festival spread peace and harmony and bring prosperity to all," Dr. Singh added
In his message on the auspicious occasion of Id-ul-Zuha, Vice President Ansari said the festival celebrates the treasured ideals of compassion, sharing and sacrifice.
"Let us observe this joyous occasion by spreading the message of peace, harmony and goodwill in our midst," he added.
President Mukherjee, who greeted fellow citizens on the occasion, said the spirit of sacrifice and service is the essence of the festival of Id-ul-Zuha.
"It is an occasion to remind ourselves of the path of selfless sacrifice and forgiveness followed by Hazrat Ibrahim and to emulate the same," he said in his message.
Bharatiya Janata Party's prime ministerial candidate Narendra Modi Wednesday extended greetings to people on Eid-ul-Azha.
Greetings on Id-ul-Zuha. May this festival strengthen the spirit of brotherhood and unity in our society.

— Narendra Modi (@narendramodi) October 16, 2013
Eid in Hyderabad
The biggest congregation in Hyderabad was held at historic Mir Alam Eidgah where over 200,000 people offered prayers. The historic Mecca Masjid witnessed the second biggest congregation. Prayers were also held in hundreds of mosques in the city.
Eid was also celebrated in Nizamabad, Karimnagar, Nalgonda, Mahabubnagar, Adilabad, Warangal, Vijayawada, Kurnool, Kadapa, Anantapur, Guntur and other towns of the state with people turning out in large numbers at Eidgahs and mosques to offer prayers.
During their speeches before the prayers, the imams also prayed for peace and prosperity in the country.
Muslims constitute about 10 percent of the state's 84.6 million population.
Bakri Eid today, but unwell goats may hit sales in Ahmedabad

Eid in Kerala
Muslims in the state rank second with 24 per cent of the 3.20 crore population and districts of Malappuram, Kozhikode, Kochi witnessed large turnouts of the devout.

Except in Kochi, where sudden rain forced people to go indoors, people offered prayers in open Eidgahs in other towns and cities.
Muslims gear up for Bakri Eid; celebrations galore in satellite Navi Mumbai

Eid in Jammu & Kashmir
Muslims throughout Jammu and Kashmir offered Eid prayers at Eidgahs and mosques Wednesday and greeted one another on the festive occasion.
Large gatherings were seen in Eidgah grounds in the old city, at Polo Ground and Hazratbal shrine in Srinagar, and in towns across the Kashmir Valley Wednesday as Muslims dressed in new clothes came out in thousands to join the Eid prayers.
Eid prayers were also offered in Eidgah ground in Jammu city, Poonch, Rajouri, Kishtwar and other district headquarters of the Jammu region where Hindus greeted Muslims on the festive occasion.
Children clad in festive dresses accompanied parents to the prayer meets, adding to colour and fervour of the festivities in the Kashmir Valley and the Jammu region.
Chief Minister Omar Abdullah offered Eid prayers at Hazratbal shrine in Srinagar on the edge of Dal Lake.
Special security arrangements were made around the Hazratbal shrine.
Mufti Muhammad Sayeed, patron of opposition Peoples Democratic Party (PDP), offered Eid prayers at Syed Yaqoob Sahib shrine/mosque in the high security Sonawar area of Srinagar.
Hardline separatist leader Syed Ali Geelani and Jammu and Kashmir Liberation Front (JKLF) chairman Muhammad Yasin Malik were placed under house arrest by the authorities in Srinagar city Wednesday.
Another senior separatist leader, Shabir Shah was detained along with some of his supporters while he was going to the Hazratbal shrine.
Police said Shah and his supporters were released later.
Mirwaiz Umer Farooq, chairman of the moderate Hurriyat group, offered his Eid prayers at the Jamia Mosque in Nowhatta area of the old city in Srinagar.'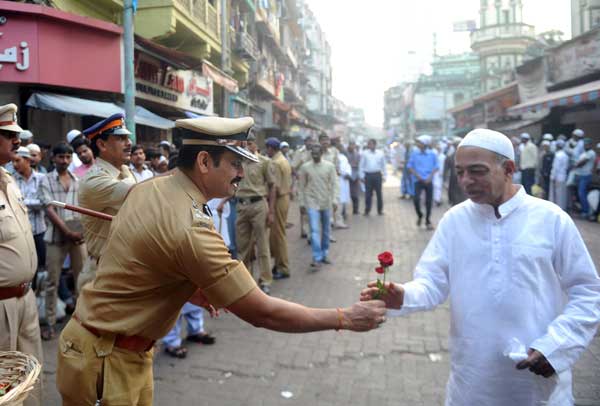 Also read: Keeping the Bakri Eid pot boiling suits the government