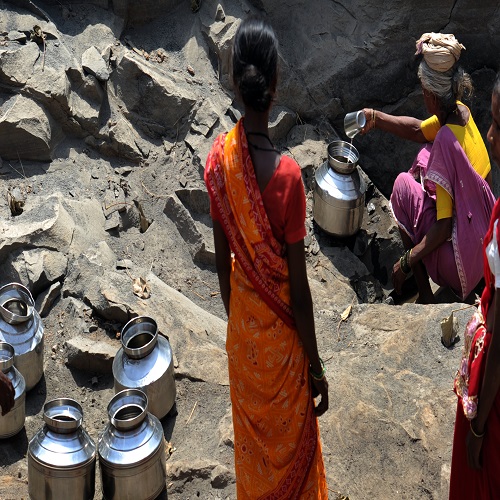 The specter of drought looms large over several parts of the country this year as predictions of poor monsoon gain ground, raising fears of a fall in output of food crops and difficulties on water and power fronts even as the Centre coordinates with the states on tackling the situation.
Vast swathes of farm land covering several lakhs of hectares in states like Maharashtra, Madhya Pradesh, Gujarat, Rajasthan and Karnataka have not seen any sowing this season as they brace for drought-like situation, according to reports compiled by PTI bureaus' across the country.
Rains so far have been deficient in the country as a whole by 43 per cent, according to the Met department
Already reports of deficient monsoon have led to a spike in prices of food articles, vegetables and fruits. The Centre has sought to play down the fears and is planning a slew of measures like diesel and seed subsidy for farmers if states declare drought. On the other hand, it has also announced a series of measures like amending the Essential Commodities Act to take deterrent steps against hoarding and black marketing.
Faced with the challenge just immediately after taking over, the new government at the Centre, in co-ordination with states, has put in place a contingency plan that will target 500 major producing districts, preparing for the worst while hoping for the best.
"Monsoon has just started, it is a late start and it is too early to create any panic," Finance Minister Arun Jaitley had said last week.
Deficit rains have also impacted water storage level across the country besides sowing operations. Reservoirs in 12 states, including Gujarat, Maharashtra and Madhya Pradesh, have reported lower water levels now compared to the position at this time in the last year, according to Central Water Commission.
Adopting a cautious approach, the Indian Meteorological Department has projected a below-normal monsoon at 93 per cent of the long period average. However, private weather forecaster Skymet has come out with a more serious picture. There is a major possibility of the country facing drought this year, with the chances being as high as 80 per cent in north west India, says Skymet.
Rainfall deficit so far is maximum in central India at 63 per cent, with severe shortfall in Gujarat region (91 per cent) followed by Marathwada (80 per cent), Saurashtra and Kutch (78 per cent) and western Madhya Pradesh (76 per cent), as per the IMD.
The current grim situation in parts of central and western India has forced Gujarat, Maharashtra and Madhya Pradesh to take steps to improve drinking water supply and boost availability of fodder to save livestock.
Sowing area of kharif crops across the country so far this year is down by 43 per cent at 182.4 lakh hectares, as per the official data available with the Union Agriculture Ministry.
Oilseeds and pulses are worst-hit crops which could increase India's import bill and prices. A huge drop in area under coarse cereals so far has also raised concerns about fodder availability and milk supply. The Union Agriculture Ministry expects sowing to pick up pace this week banking on the forecast of better rains, but expressed concerns about possibility of acreage lagging behind in central India with little window left for sowing of key crops now.
When asked if the country is facing drought threat, Union Agriculture Commissioner J S Sandhu said: "None of the states has reported a drought-like situation. They are keeping a watch on the progress of monsoon."
Stating that monsoon has touched all states without fully covering them, he said clarity on kharif acreage would be known by middle of July.
He, however, said: "Looking at rainfall situation in Central India, there may not be sufficient area coverage." The situation is still not alarming in the country as a whole, with Met Department projecting better rains during July and August, he added.
Kharif sowing in Maharashtra has been done in 8.43 lakh hectares till last week against a total cultivable areas of 134.70 lakh hectares, as per the state official data.
Similarly in Gujarat, a drought-like situation cannot be ruled out because of severe deficit in monsoon rain. As a result, farmers have been able to sow only in 12.8 lakh hectares against the cultivable area of 86.8 lakh hectare.