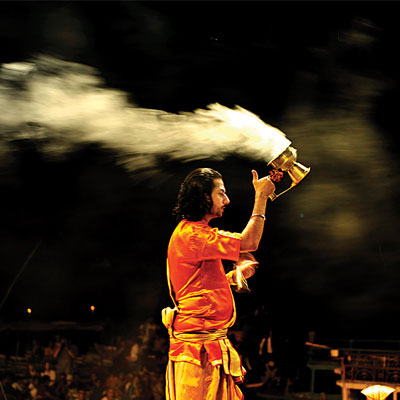 Intelligence agencies, from Lucknow to Delhi, were rattled on Friday after four people were arrested for filming the famous "Ganga aarti" at the Dashashwamedh Ghat in Varanasi using a camera mounted on a remote-controlled drone.
Officials said the crew was shooting in the highly sensitive area without permission. The crew comprised four Indians, all of whom have been arrested, and four foreigners — two Australians and two Americans, who have been detained. Of the Indians, two are from Haryana and one each from Mumbai and Delhi.
Varanasi has been on high alert ever since Prime Minister Narendra Modi's name had been declared as the BJP's candidate for the Varanasi Lok Sabha seat. Security has been very strict at the various ghats in the temple town after the blast in 2010 at Sheetla Ghat which sits cheek-by-jowl with the Dashashwamedh Ghat. Two people were killed in that blast. Filming in the area has been banned since.
The police said that the crew had taken permission for a shoot between July 5 and 7. They had been asked not to extend the shoot without an official nod from the district administration, Varanasi police sources said. The crew, sources said, was shooting the "Ganga aarti" with a drone camera and also a heli-camera.
"Modiji had himself performed the Ganga aarti at this very ghat after becoming PM, due to which this incident evokes even more concern and deserves attention at the highest level," a senior police officer told dna on condition of anonymity.
Sources said the Intelligence Bureau (IB) had been informed of the development, and investigation agencies and intelligence officials were interrogating the film crew. There was no official word from the state administration on the incident. In fact, UP DGP AL Bannerji and Principal Secretary (Home) Rakesh Bahadur walked out of a press conference in Agra, refusing to take any questions on the matter.
Apart from the drone camera, two walkie talkies and three mobile phones were recovered from them. The men introduced themselves as employees of a travel agent and said they had been shooting at various places for a foreign channel. They were, however, unable to show any proof of their work. The arrested men — Sandeep, Vipul, Satish and Tirthkar — have been booked under various sections of the Indian Penal Code (IPC) at the Dashashwamedh Ghat police station.
The IB had alerted the state police of a potential terror threat — a blast which IM or SIMI operatives could set off on or before Independence Day (August 15) in Uttar Pradesh – after which security has been further heightened in Varanasi. Last month, too, the UP police and intelligence officials were in a tizzy after the recovery of a large cache of explosive material from Varanasi.
A camera-mounted drone or 'Camcoptor', used by a news channel to cover Narendra Modi's roadshow in Varanasi during the election, had caused quite a flutter among the authorities handling Modi's rather elaborate security detail.