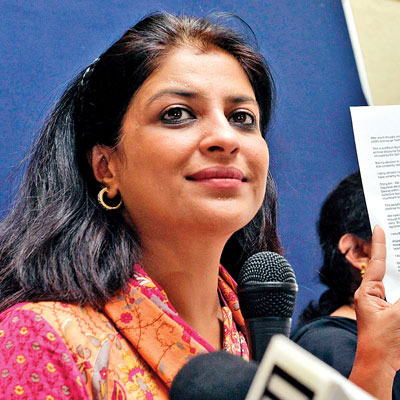 In a blow to the Aam Aadmi Party (AAP), Shazia Ilmi, one of its founder member and a prominent woman face of the party quit the party on Saturday. She alleged that the party lacks inner democracy and said that crony cliques run the party. Ilmi also targeted Arvind Kejriwal for his jail politics. Along with Ilmi Captain Gopinath, another senior member of the party also announced his exit from the party.
"I am leaving AAP because of the absence of inner party democracy in a party which talks of Swaraj. The party is being run by a coterie which takes impulsive decisions and we get to learn about them later," she said.
Differences between Shazia and the party grew after Shazia was asked to contest the Lok Sabha election from Rae Bareli. "Arvind has shot the messenger, I was consistently sidelined in the party," Ilmi said.
While Ilmi was keen on contesting the elections from a Delhi seat, the party gave her a ticket from Ghaziabad. She lost to General VK Singh of the BJP.
Addressing a press conference in Delhi, Ilmi said, "After much thought and deliberation I have decided to give up my membership of AAP and resign from all positions within the party. My decision to leave the party is triggered by the lack of inner-party democracy, especially from a party that constantly talks of Swaraj (self rule)," she said.
"We fight against cronyism but we have a crony clique which runs the party and takes impulsive decisions which we learn about later. I find it amazing that we cannot follow the principles of Swaraj within our own party."
Speculations about Ilmi's resigning the party has been going around since Thursday. However, before Ilmi's press conference in the afternoon, party colleague Somnath Bharti met her at her residence to
convince her not change her mind. The meeting between Bharti and Ilmi lasted for about two hours, but the latter remained firm on her decision.
Besides Ilmi, Capt Gopinath another senior member of the party has conveyed to the Karnataka state convener about his decision to quit the party. "I would like to resign from the membership of the AAP with immediate effect because of increasing differences with the party leadership and its ways," Gopinath said.
Gopinath who acknowledged that he was a great admirer of Anna Hazare said that he wished the party well in its future endeavours. He criticised Kejriwal for failing to appear in the court and then
refusing to furnish a bail bond after which he was sent to judicial custody till June 6.
Gopinath also said that Kejriwal could not be compared to Hazare, who was sent to judicial custody in August 2011 following his arrest during Janlokpal Bill agitation after he refused to sign a personal bond.
Both Ilmi and Gopinath blamed Kejriwal and AAP for only indulging in small publicity stunts. "Naming corporate house and political leaders involved in acts of corruption truly creates sensation, but it has not
helped us much," said Ilmi. AAP after winning 28 assembly seats in Delhi, could not make to even one seat in the capital in the Lok Sabha election.