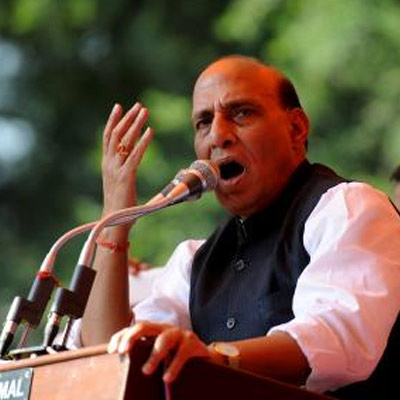 BJP President Rajnath Singh met Muslim clerics in Lucknow on Monday, apparently to garner support for the BJP for the ongoing Lok Sabha elections.
Singh later said he met Muslim cleric Kalbe Jawad to offer his respect to the acclaimed religious leader.
Last month, Congress President Sonia Gandhi met the Shahi Imam in Delhi, a meeting which was slammed by the BJP, who called Congress out for 'communalising the campaign'. Social media was also abuzz with people condemning Sonia Gandhi's act, questioning the secularism of the Congress party and the attempt to 'divide the country on communal lines'.
Thus, Rajnath Singh's visit has kicked up a fresh controversy. BJP supporters on social media as well as skeptics of the party have begun to condemn Rajnath Singh's act.
Moreover, the BJP has been trying to get Muslims to support the party over the last few months, inducting the likes of Sabir Ali of the JD(U). However, these attempts have yielded little results, with the BJP being forced to rescind Ali's membership soon after following protests from within the party and the RSS, because Sabir Ali is suspected of having links with terrorist Yasin Bhatkal.
Today, Twitter went into overdrive discussing Rajnath Singh's decision to meet Muslim clerics:
The Twitter user below was extremely angry at Rajnath's actions:
well @BJPRajnathSingh Ji. but u must be kick out of BJP like Jaswant Singh! what is @RSSorg stand on this! pic.twitter.com/7Lgjhm2i21

— DISHANT (@jawla) April 15, 2014
Another user expressed support for Rajnath's act, but it is unclear what he meant by 'let us do it after election'
@BJPRajnathSingh Sir u did a gud thing met Muslim leaders,take them in to confidence and let us do it after elction

— bk nair (@balaknai5) April 15, 2014
Mr. Parthasarathi accused Rajnath Singh of selfishness at the cost of the party's chances in the election:
To say very clearly, to secure 1 seat for himself Rajnath Singh has compromised with the policy that can secure BJP 100s of seats.

— ParthaSarathi Ghanty (@Parth092) April 15, 2014
A livid user and Narendra Modi fan said it was completely uncalled for:
@BJPRajnathSingh @ajitanjum this is uncalled by rajnath..want to derail good modi compaign by this type of steps not dne sir its hypocracy!!

— Vinod Singh (@vinodnsn) April 15, 2014
Another twitter user had some more advice for Rajnath Singh:
@BJPRajnathSingh Please advise Varun not to bite the Priyanks bait. They want to divert the electioneering issues.

— B V S Parmar (@bvsparmar) April 15, 2014
There seems to be some anger developing over the BJP President's decision to meet clerics. With parties like the Congress and the Samajwadi Party seemingly going all out to woo Muslim voters in this election, one wonders if BJP has pressed the panic button on the Muslim vote, fearing it would derail their march to victory. Rajnath's meeting seems a clear attempt to avoid extreme polarisation of votes, especially in constituencies like Lucknow where Muslims constitute a significant chunk of the population.
The drawback of this strategy, however, could be that it could alienate Hindu voters who vote for the BJP because it is seen as a party which does not 'appease' minorities.