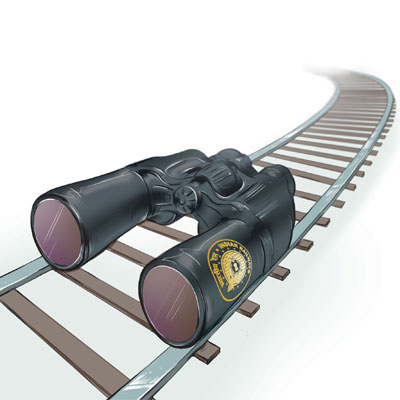 Two hundred metres of Raisina Road separates Rail Bhawan from Parliament House. But when members of the railway board crossed the road on Tuesday and stepped into Rail Bhawan to address the media two hours after railway minister Sadanand Gowda read out the rail budget, they appeared lost and listless.
So much so, to the question "where will the railways get the money to get the Bullet Train running?" from a reporter, Railway Board chairman Arunendra Kumar replied, "You tell me."
It was not said in anger. Far from that. But it spoke of a dichotomy in thinking between the railway board and the government, specifically the PMO. Sources said the board had very little say in fashioning Gowda's maiden railway budget. The salient points, the key takeaways, came from the PMO, meaning prime minister Narendra Modi.
"It's prime minister Narendra Modi's budget. The PMO worked on it, the railway board stacked the pages in the correct order," said a source.
If fact, except for chairman Kumar none of the other board members spoke on the railway budget at the post-railway budget press conference. When Kumar finished speaking, he turned to ask if any of the other board members wanted to add anything to what he had said, they shook their heads in unison to signal 'No'.
In his short introduction, Kumar repeated all that was said in Gowda's speech. But he wouldn't give a time-frame to any of the "projects".
Sources in the railways said when the proposals were first mooted by the PMO, top railway officials were stunned, certain that some of the proposals were just not possible. "On paper fine, but in reality, harebrained. Linking Char Dham with tunnels! They thought it was crazy," said the source. "Memos were written pointing out which proposal will work and which wouldn't but none of the officials had the guts to step up and send them to the railway minister, forget the PM."
The upshot is, after years of running the show in the railways, the railway board is staring at a far lesser role. Modi is out to cut it to size, and the PMO is already calling the shots. PPP and FDI will further erode the board's powers. By the time Modi finishes with making the institutional changes that he speaks of, railway board members may find themselves reduced to passengers in the Bullet Train!