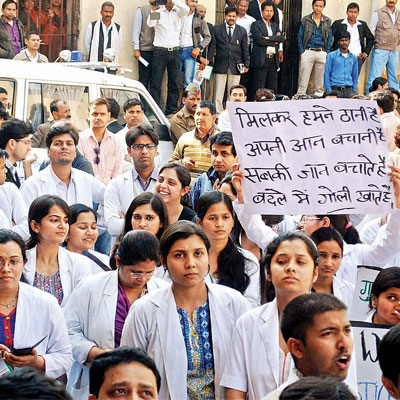 Patients across Uttar Pradesh are in for more trauma as striking doctors have refused to relent on their agitation despite an appeal by the Lucknow bench of the Allahabad High Court on Wednesday. Taking suo motu cognizance of the matter, the court ordered the transfer of Kanpur SSP Yashasvi Yadav, who is at the centre of the face-off between junior doctors and the administration.
Later in the day, the government geared up for stern action against the doctors, invoking the Essential Services Maintenance Act (ESMA) to get the doctors back in hospitals on the fifth day of the strike, which has resulted in the death of more than 40 people so far.
Doctors, unwilling to budge, are set to widen their agitation to the national level from Thursday. The Indian Medical Association (IMA) Kanpur unit chief Dr Aarti Lalchandani, who also heads the medicine department at the famous GSV Medical College (Kanpur), told reporters that the strike will not be called off until the doctors' demands are met — chief of which is the transfer of and disciplinary action against Kanpur SSP Yashasvi Yadav and other police officials responsible for the alleged assault on junior doctors on Friday.
The junior doctors are also demanding action against Kanpur Samajwadi Party (SP) MLA Irfan Solanki. Yadav and a team of police officials are alleged to have brutally beaten up junior doctors on Friday after two of their (doctors') colleagues riding a bike scratched Solanki's SUV. Solanki and his henchmen had allegedly beaten up the two junior doctors.