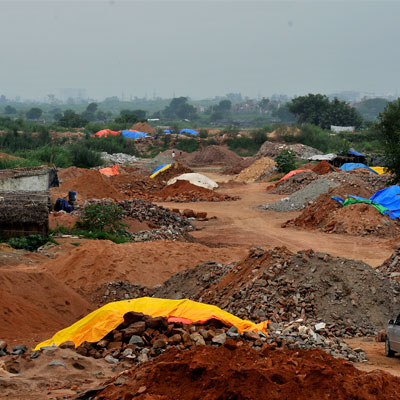 Lawyer-politicians Abhishek Manu Singhvi and Pinaki Mishra, who appeared on behalf of different mining companies before the Justice MB Shah Commission, have brought back into focus the issue of conflict of interest that many representatives simply shrug off.
Singhvi, who is a Congress spokesperson and a Rajya Sabha MP, appeared before the Commission for Aditya Birla Group company Essel Mining, which has been accused of illegal extraction of ore worth Rs 4,368.75 crore. Singhvi also appeared for the Federation of Indian Mineral Industries (FIMI), which represents 350 mining companies. FIMI interfaces with the Centre for promotion of miners' interest. Incidentally, FIMI president HC Daga is an advisor to Essel Mining, the other company that Singhvi represented.
Mishra, a Biju Janata Dal (BJD) Lok Sabha representative from Puri, represented Kalinga Mining Corporation and Sarda Mines Private Limited, both of which are accused of holding illegal ore worth Rs 3,485.89 crore (Sarda Mines-Rs 2,845.58 crore and Kalinga Mining-Rs 640.023 crore). Mishra even defended the companies against the interest of his own government in Odisha.
The Commission probed mining activity in Odisha, and concluded in its report, recently tabled in Parliament, that most mining activity in the state between 2008-2011 defied laid-down rules and was carried out under political patronage. In Mishra's cases, the one-member panel, while rejecting arguments by the companies, directed the Odisha government to recover Rs 59,200 crore from them and use it to develop Keonjhar and Sundargarh districts to help the tribals impacted by mining.
Both Singhvi and Mishra defended their actions, saying there was no conflict between their legal profession and their political allegiance. But Dr Arun Gupta, convener of Alliance Against Conflict of Interest, said that lawyers-turned-politicians do take advantage of vagueness of conflict of interest. "It (conflict of interest) is a serious issue biting into the integrity quotient of the Parliament, where a person from business class or his legal representative could have potential conflict while participating in parliamentary deliberations on public policy," said Gupta.
Singhvi said he represented an association of mining companies and not any individual group. "This was in discharge of my professional duties as a senior counsel along with Ram Jethmalani, Gopal Subramanyam, Anil Dewan and others. It is not a conflict," said Singhvi and added that as a senior counsel he was briefed by other lawyers, who held the vakalatnama for clients. "We have no connections with the client."
Interestingly, the Congress had punished Singhvi in 2010 for defending a lottery distributor accused of irregularities in the Kerala High Court. The party took barred him from addressing official party briefings following continued pressure from Kerala's Congress leaders, who were embarrassed by Singhvi's legal defence of Santiago Martin, the lottery distributor. At that time too, Singhvi had said that his court appearances had nothing to do with politics and that there was no conflict of interest. He later withdrew from the case to "avoid any communication gap or controversy".
Mishra said any potential conflict of interest would have arisen if he had defended the company on the floor of the House and reminded that he has never appeared before any court on behalf of government and has never been on any government-appointed committee or board. "As an MP, if I had raised the issue and spoken in the House without disclosing my interest then I would have been liable for indulging in conflict of interest," said Mishra. "There is no connection between my party BJD and mining companies. As a professional, I was doing my service and I have no truck thereafter with these companies either."
As many as 92 Rajya Sabha MPs have declared pecuniary interests in the register of interest under Rule 293, which contains crucial information about the financial and business interests of MPs, according to a study compiled by the Association of Democratic Rights (ADR). Incidentally, Singhvi, at Rs 50 crore, has declared the highest amount received from 'professional engagements' followed by BJP's Ram Jethmalani, who got Rs 8.41 crore for his profession engagements.
Before becoming a Union minister last year, Congress MP from Tamil Nadu EM Sudarsana Natchiappan had introduced a private member's bill seeking to codify conflict of interest. Natchiappan had pointed out that the bill was aimed to bring all public servants, ministers, consultants in public bodies and consultative committees within its ambit. He believed that conflict of interest was at the root of corruption.