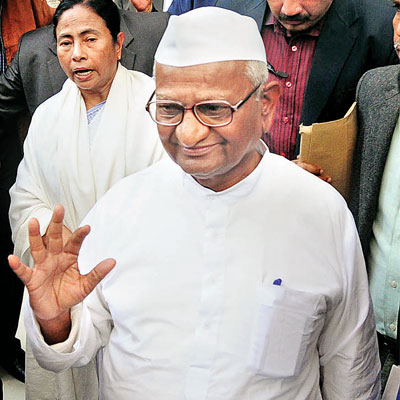 Political analysts linked social activist Anna Hazare's move to support Mamata Bannerjee's Trinamool Congress (TMC) for the upcoming Lok Sabha elections to an identity crisis.
The 74-year-old Gandhian became a household name in 2012 after his sustained campaign for the jan Lokpal Bill. He was supported by the likes of Kiran Bedi, Arvind Kejriwal who were part of the Indian Against Corruption movement. In August 2012, Anna brought the Congress-led UPA government to its knees over a period of 12 days before he ended his hunger strike after 288 hours. The movement for the Jan Lokpal Bill soon frizzled out and Anna parted ways with Kejriwal over the need to enter active politics to push the bill. Difference of opinion has created a widening chasm between the two leaders since. In recent weeks however, Anna had been sending signals that he had changed his mind.
"I support the ideologies of didi and that is why I have offered my support to her. I will campaign for her," said Anna at a joint conference with Mamata. "I had written to all the political parties about a 17-point agenda to run the country. I wrote the letter to all the political parties, but got a reply only from Mamata, saying she will adopt the issues if the party comes in power."
When asked about his former aide and former Delhi CM Kejriwal, Hazare said, "I did not get any reply from Arvind. So there is no question of any support. He is a changed person and he is eyeing the PMs chair."
Sources told dna that the Aam Admi Party never received Anna's letter.
Banerjee will meanwhile consult Anna Hazare on strategies for central and north India. "We will contest elections in Assam, Manipur, Arunachal Pradesh. We will also act on advice of Anna as far as the North India and South India are concerned," said Mamata.
Likewise, when asked about a possible pre-poll alliance with the BJP, Mamata said: "Now there is no prepaid in politics. There is only post-paid. We want safe and sound government for people. We have seen elections in short span."
Political commentator Urmilesh told dna, "On a personal level, this is indeed an identity crisis for Anna Hazare. But more than that, it is a crisis for the country's politics that our leaders have to go to Hazare to act as an electoral prop."
"For Hazare, it is an effort to create an alternate image of simplicity against Arvind Kejriwal by allying with Mamata Banerjee. For Mamata, roping in Hazare is essentially aimed at creating a credible national political face as she is eyeing national intervention," Urmilesh added.
Being asked about the rationale behind the alliance, TMC MPs categorically said that it was Anna who approached the party, indicating that it is Anna who needs people more than any one else. A TMC MP told dna on condition of anonymity, "I think what has been said is very clear. Anna Hazare will campaign for us. In any case we never approached Anna. It was he who got in touch."