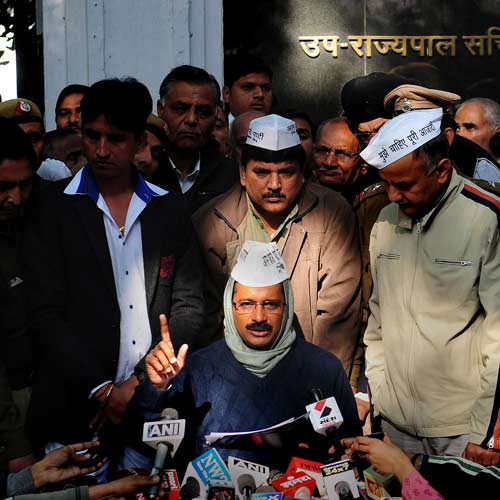 The Aam Admi Party government in the national capital will get its first reality check when it will try to deliver on the promise of reducing electricity tariffs by 50%.
There is no doubt that electricity tariffs have gone up sharply in the past few years and people have been complaining against the tariff hikes, but reducing it by 50% without paying from the government exchequer looks unrealistic.
In Delhi, the three power distribution companies (discoms) owned by Reliance Power and Tata Power charge retail consumers in four slabs of 0-200 (Rs 3.90/unit), 201-400 (Rs 4.80/unit), 401-800 (Rs 6.80/unit) and above 800 (Rs 7/unit). For the first two slabs, the Delhi government provides a subsidy of Rs 1.20 and 80 paise respectively.
Data sourced by dna from different agencies, including the Planning Commission, shows that the cost of power for the discoms is about Rs 5.38 per unit in FY13. This includes the cost of power and transmission charges. In FY03, the cost of power was Rs 1.42 per unit, which means that the cost of power has gone up by 300% in the past 10 years. However the hike in tariffs for consumers has been only 65%.
The discoms benefited by reducing transmission and distribution losses by 40%, which amounted to 210% savings in the cost of power. This cost according to discoms has been passed on to the customers by increasing tariffs only by 65% in the past 10 years. The cost of power for discoms amounts to 80% of the overall tariffs that they charge.
According to a statutory advice issued by the Delhi Electricity Regulatory Commission to the government of Delhi in February 2013, the revenue gap for the three discoms in Delhi is Rs 19,505 crore. This revenue gap has to be met by the Delhi government and the discoms show this amount of money as receivables on their books.
The discoms of Delhi purchase their electricity only from the government owned power generators like NTPC, NHPC and other plans owned by Delhi government. As much as 70% of the power is supplied by NTPC which is India's largest power generator and offers the power at the most competitive rates.
Looking at the cost of power for the discoms, the only way to reduce power tariffs in Delhi is by burdening the exchequer, wherein the tax payers money is used to subsidize the electricity bills.
However, this would mean compromising on the funding of various other infrastructure projects in the country's capital.
The final verdict will be out in a few weeks, when the new government takes charge and plunges into decision making.