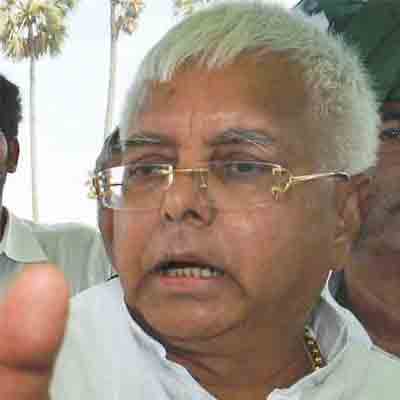 Ever since the Rashtriya Janata Dal (RJD) announced its candidates in Patna last Thursday, Delhi's 18 Mother Teresa Crescent bungalow has been abuzz with activity. But its resident, former RJD leader Ram Kripal Yadav, who joined the Bharatiya Janata Party (BJP) on Wednesday after a tiff with the RJD on seat allocation, was rarely at home. On Wednesday though, it was a relatively quiet and relaxed afternoon for Kripal, who offered tea to guests and claimed that it is the start of the end for RJD chief Lalu Prasad Yadav in Bihar.
Kripal's move is expected to provide a fillip to the BJP, which had an acrimonious divorce with Bihar's ruling party, Janata Dal (United) last year, as well as hurt the chances of RJD chief Lalu Prasad's daughter Misa Bharti, who will be up against Kripal in the Pataliputra constituency. After joining the BJP, Kripal told dna that Lalu is in trouble in Bihar and that the party is staring at more losses.
Kripal should know. He has taken an entourage of leaders to the BJP, including former RJD youth wing secretary Tanvir Alam, former RJD Delhi youth secretary Mayank Shrivastava, former RJD spokesperson Randheer Yadav and 10 other party workers.
Asked whether allocating two seats to family members is a desperate move by Lalu, Kripal said, "I do not know what has been the thought (behind allocating two seats to family members) in the party. But people are not feeling good. People are not approving the way the party is going forward. And it is not a matter of one seat. The way the tickets have been allocated in Bihar, many people are dissatisfied. The party will face more trouble."
At least four other RJD leaders are said to be in exit mode. Kripal, who left the RJD over not getting the Pataliputra seat and an overall decline within the party, will take on Lalu's daughter Misa from the constituency. Experts believe that with the Kripal vote in the constituency being divided and the other upper caste voting en mass for BJP, Kripal will have an upper hand.
Political commentator, Urmilesh told dna, "It is a Yadav dominated constituency. With these two (Misa and Kripal) and sitting JD (U) MP Ranjan Yadav, there will be three Yadav candidates. In all likelihood, it will be favourable for Ram Kripal Yadav as the upper caste votes will go to BJP."
Kripal is also likely to get the votes of upper caste communities such as baniyas, kayasthas and bhumihars.
Kripal also claimed that the Muslim-Yadav equation, which has remained the pivot point for Lalu's politics, too will be dented in the upcoming Lok Sabha elections. Kripal, who has a huge base in the minority community, said the condition of the minorities in Gujarat is better than in Bihar. "Had Narendra Modi not been committed to the cause of minorities, would any development have happened? One has to see the condition of the minority community in Gujarat. Is there any comparison with Bihar? Secularism has just reduced to a rhetoric for vote bank. People should be recognised by their work," he said.
Experts also maintain that Lalu's arrogance and preference for his family members will lead to the RJD's downfall. "This supremo culture is bringing the RJD down. He (Lalu) has himself driven leaders committed to the cause of social justice to the BJP. The committed cadre is being isolated," said Urmilesh.