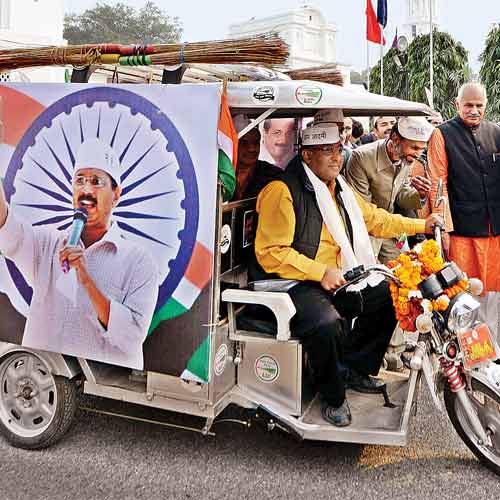 Established parties in India need to be worried as Aam Aadmi Party which was brushed aside as Delhi only phenomenon has now people making beeline across India to join it. Since its stellar debut in Delhi Assembly elections on December 8, around 3.84 lakh people from length and breadth of the country – just through party's website — have joined AAP.
Of those 3.84 lakh, the top three places where people have registered with AAP online are Uttar Pradesh with 72,416 members, Delhi with 48,001 and Maharashtra with 37,028 members.
AAP's senior leader Dilip K Pandey, who played a key role in party's communication campaign, told dna that since party won 28 seats in Delhi, they have received a mind boggling response from across the country and people from all states and cities are joining AAP.
"Over 3.84 lakh people from across India have become our members by registering online between December 8- 31. But this data is only of online members. Lakhs of receipts are with our volunteers across India who are enrolling people offline everyday by getting forms filled physically," Pandey said.
"Total number of people who have joined AAP since December 8 by filling physical forms across India will only be clear in next 15-20 days. Tens of thousands are joining us every day from all states. As per our estimates AAP membership has easily increased ten times since the results came out," Pandey explained.
A senior AAP leader, who is involved in maintaining this data, said the data of 3.84 lakh people who joined online during December 8-31 does not give complete picture about AAP's footprint.
"Internet penetration in India is approximately 16% — which is around 20.3 crore. But AAP is also getting a huge number of members who are not internet users," the senior AAP leader told dna.
"The number is significant for AAP as the party has announced its ambition to go national. Party had less than 5 lakh registered members before Delhi elections. But things changed after Delhi results.
AAP right now has its units and committees in at least 309 districts across India. But if their numbers are to go by AAP is well on its target of having presence in all 655 districts of the country.
Some AAP leaders are confident that they would penetrate down to panchayat–level.
It is giving special emphasis to states like Uttar Pradesh, Bihar, Haryana, Madhya Pradesh, Maharashtra, Rajasthan, Chhattisgarh, Gujarat.
AAP has reportedly set a target of enrolling around seven lakh members in Bihar alone before lok Sabha elections and party is receiving a tremendous response from the state and is hoping to exceed their target which may well give sleepless nights to established parties like Janata Dal (United) and BJP.
Punjab is also one of the states where AAP has got tremendous response. It's membership has increased several times. AAP has reportedly enrolled around one lakh new members across the state against 37,000 members before December 8.