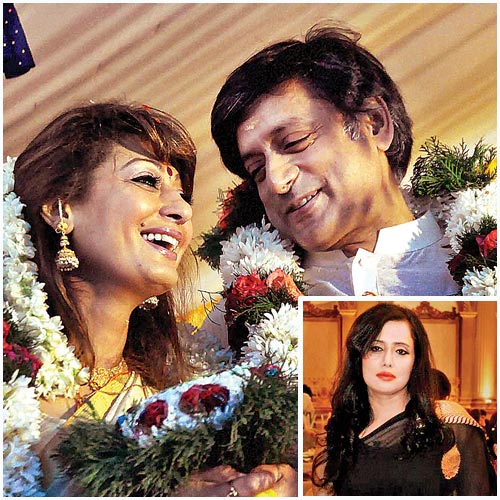 Union minister of state for human resource development Shashi Tharoor is no stranger to Twitter controversies and the last 24 hours have probably been a nightmare for him with his private life again becoming a discussion point when his wife Sunanda Pushkar alleged that a Pakistani journalist Mehr Tarar, who is an ISI agent, of stalking her husband.
The couple, however, finally came out with a joint statement thrashing those allegations stating they are "happily married" and "intend to remain that way". Pakistani journalist, meanwhile, also came out with her statement wishing the couple a happily ever after time.
Tharoor and Sunanda Pushkar, in a joint statement, said, they are "distressed by the unseemly controversy that has arisen about some unauthorised tweets" from their Twitter accounts.
Various distorted accounts of comments allegedly made by Sunanda have appeared in the press. It appears that some personal and private comments responding to these unauthorised tweets — comments that were not intended for publication — have been misrepresented and led to some erroneous conclusions," the couple said.
They said they want to "stress" that they are "happily married and intend to remain that way".
"Sunanda has been ill and hospitalised this week and is seeking to rest. We would be grateful if the media respects our privacy," the couple stated.
The controversy started on Wednesday evening when a series of tweets posted on the verified Twitter account of Tharoor which were allegedly received from Mehr Tarar's account. The tweets posted were of personal nature wherein the Pakistani journalist was allegedly professing her love for the Union minister.
Tharoor, however, later deleted the tweets from his account claiming that the account was hacked and would be offline for some time. Pushkar, however, told some media outlets that the account was not hacked and she had posted those tweets stating that her husband was being stalked by a Pakistani journalist (Mehr) who is an ISI agent.
Some media outlets quoted her stating that she took upon herself Tharoor's alleged misdeeds during the IPL scandal and that she is distressed and wants to divorce Tharoor. Pushkar, however, on Thursday claimed that she never used the word "crime" and had only mentioned IPL sponsorship.
Tharoor had courted controversy a few years ago when during government's austerity drive he had tweeted that he too was travelling in the cattle class like many others. He had to later apologise for hurting the sentiments of the economy class passengers.
He also had to quit as minister over his alleged links with a Kochi franchise of IPL when he was accused of having helped Pushkar to clinch a deal. Thaoor had subsequently married Pushkar. He, however, made a comeback as a minister in 2012.
Meanwhile, Tarar who since Wednesday was quoted as saying that she would file defamation suit against Pushkar and said she respects Sunanda and Tharoor. She said she was one of the first people to follow Tharoor when after she joined Twitter.
She stated that she is a great admirer of Tharoor's work and wish there were more politicians like him. She, however, denied that she is on BlackBerry messenger with Tharoor and thus she was startled by Pushkar's comments that she was stalking Tharoor on BBM.
Tarar also cleared that she has never met Pushkar. The Pakistani journalist also said that all she can do at the wild allegations levelled against her is "laugh". arar said maybe Pushkar took offense to her lavish praise for Tharoor. Tarar finally said she wishes that the couple lives "happily ever after and have a long and happy marriage".