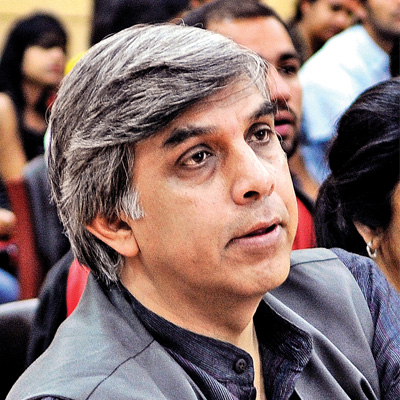 Refusing to budge from his stand of going ahead with FYUP to finally following the UGC directive, Delhi University vice-chancellor Dinesh Singh comes across as a strong and able administrator. While agreeing to go back to the three years graduation course on Friday, Singh had said, "The university of Delhi recognises the need of the hour. It is of paramount importance to protect the interest of the students by ensuring the start of admission process."
From introducing semester system followed by the controversial four years undergraduate programme in the Delhi University to carrying out minor plumbing works in the washroom of his office on his own, Dinesh Singh did it all.
While most V-Cs would work from within the four walls of his office, Singh adopted a different approach. Before introducing the FYUP, he had held consultations with school students and parents. Singh had also called an Academic Congress inviting stakeholders including those from field of academics, sciences and the glamour world seeking feedback on the four years programme.
Breaking away from his contemporaries followed who would only interact with teachers through their department heads or the Delhi University Teachers' Association (DUTA), Singh interacted with the teachers directly. While Singh was unavailable for comment on Saturday, he had told this reporter on an earlier occasion, "I want the teachers to speak their minds. The department heads or political representatives can have their biases. For the university every opinion is valuable."
It was a Dinesh Singh's initiative that the university for the first time funded research projects at the undergraduate level. Singh had also brought together affiliated colleges through Anterdwhani — University's annual fest. It was Singh's initiative that Gyanodaya Express, a train that took the students to educational tour was flagged started.
Opening his office for a one-day internship was also one of Dinesh Singh's unique initiatives. Two students from a college would spend a day at his office to get a sense of how the office of the V-C works. The practice continued for over a year. He also had a separate email address to interact with students.
While a section of teachers have been against Singh's style of working, he has been a popular V-C amongst most teachers and students.
This is probably one of the first occasion in Singh's career as a V-C that he has been pushed to the wall. While DUTA president Nandita Narain has been demanding Dinesh Singh's resignation, others feel that to bring a reform in the education system, people like Singh are needed in the system. Prof Chandrachur Singh of Hindu College, who is currently working as the Indian Research Coordinator at the University of Birmingham said, "The whole world looks up to him. The other day I was in a meeting with leading academics who said prime minister Narendra Modi requires people like Dinesh Singh to transform his dreams into reality. Unfortunately, politics at the lower level has won," he said in an email to the dna.