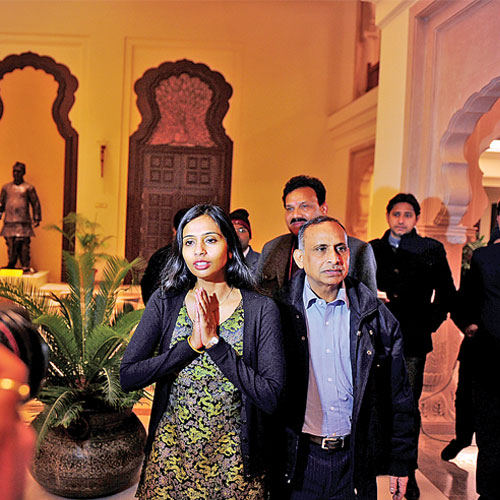 Within hours of Indian diplomat Devyani Khobragade being asked to leave the US after her indictment in a visa fraud case for which she was arrested nearly a month ago, India on Friday asked the US embassy in New Delhi to withdraw a senior American diplomat and send him back home.
The unnamed director-rank American diplomat based here was given "a little more than 48 hours" to leave India even as Khobragade was on her way home from New York, where the US government finally approved her accreditation to the UN which gave her full diplomatic immunity as against partial immunity at the time of her arrest on December 12 when she was deputy consul general there.
Refraining from using the term "expulsion", a government source said here that the US Embassy has been asked to "withdraw" one of its diplomats of similar rank as that of Khobragade, which the government "has reasons to believe, is closely involved in the processes relating to this case and subsequent unilateral action by the US".
The diplomat was understood to be closely involved in the "evacuation" of the family of Khobragade's absconding maid Sangeeta Richard.
In New York, Khobragade was indicted for visa fraud and making false statements by a grand jury which held that the charges against her will remain, with main prosecutor Preet Bharara saying: "There will not need to be an arraignment on the indictment scheduled at this time. We understand that the defendant was very recently accorded diplomatic immunity status.
"Therefore, the charges will remain pending until such time as she can be brought to court to face the charges, either through a waiver of immunity or the defendant's return to the United States in a non-immune status..."
The ministry of external affairs would decide on the next course of action after speaking to Khobragade.
At the time of her departure for India, Khobragade reiterated her innocence on charges filed against her and also affirmed her determination to ensure that the episode would not leave a lasting impact on her family, in particular, her children, who are still in the US. "My son-in-law and grandchildren will return later. The Indian government will ensure that my daughter gets the justice she deserves," Devyani's father Uttam Khobragade told dna.
Earlier in the day, Uttam Khobragade claimed that she rejected an offer to "compromise" and stay in the United States as she was fighting to uphold the sovereignty of the country.
"Devyani left the US soil today with full diplomatic immunity vindicating the stand that that whatever dispute is being raised in the US is a prerogative of the sovereign country India and can only be adjudicated in Indian courts," Uttam Khobragade said.
He claimed that his daughter was given feelers that if she compromises she could continue to stay in the US but she rejected them outright. "She is a proud Indian giving more importance to the sovereignty of this country and dignity of the judicial system of India over the personal relief being offered and decided that her country's sovereignty is dearer than her personal life and comfort."
On January 8, the US granted Khobragade full diplomatic immunity due to her transfer to India's Permanent Mission to the UN in New York. Subsequently, the US asked India to waive her diplomatic immunity. But India refused, following which she was asked to leave the country.
The 39-year-old 1999-batch IFS officer was arrested on December 12 on charges of making false declarations in a visa application for her maid. The diplomat was strip searched and held with criminals, triggering a row between the two countries, with India retaliating by downgrading privileges of US diplomats, among other measures.
Khobragade was later released on a $250,000 bond.
(with agency inputs)