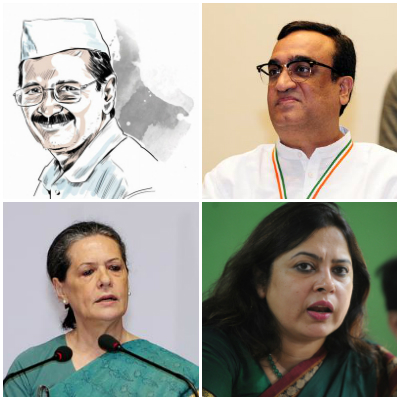 More than half of Delhi's 12 million voters cast their ballots by late afternoon on Thursday, surpassing the 2009 polling percentage, to pick seven Lok Sabha members in a high voltage three-cornered contest.
Long queues formed outside the 11,763 polling stations across the national capital as men and women - the elderly included - turned up in large numbers right from the time polling began at 7 am. Voting ends at 6 pm. "The polling percentage till 3 pm was 52%. We are very happy with the polling percentage," Chief Nodal Officer, Delhi Election Commission, Ankur Garg, told IANS.
The 2009 percentage was 51.85%. In 2004; it was even lower at 47.09%.
Voter enthusiasm was evident in both middle class and working class areas. In some places, the queues snaked out of the school buildings where polling stations were set up. Even affluent areas, which are usually lethargic vis-a-vis elections, reported heavy polling.
A total of 150 candidates - most of whom the electors had heardly heard about - are in the fray in Delhi. With the emergence of the AAP, Delhi is witnessing a triangular fight in any Lok Sabha contest for the first time. The Delhi battle is critical for the Congress, which won all seven Lok Sabha seats in 2009. It is equally important for the Bharatiya Janata Party (BJP) which has vowed to snatch all seven in order to ensure a BJP-led coalition government in New Delhi.
Delhi is also crucial for the Aam Aadmi Party, which has to prove that its support base has not eroded since its 49-day minority government went out of office Feb 14.
Among the early voters were Vice President Hamid Ansari, Congress president Sonia Gandhi, her son and party vice president Rahul Gandhi, AAP leader Arvind Kejriwal and BJP's Harsh Vardhan, who is contesting from Chandni Chowk.
While Sonia and Rahul Gandhi did not talk to the media, Priyanka Gandhi, who came to vote with husband Robert Vadra, said there is "no Modi wave in the country".
On his part, Kejriwal said after casting his vote in Tilak Marg: "We are confident that we will win all the seven seats. We are sure that the youth and others will vote for us."
Congress leaders Ajay Maken, who is contesting the New Delhi seat, and Kapil Sibal the candidate for the Chandni Chowk seat, voiced confidence of the party winning all the seats. "Every election is a challenge. But this time the election is not being fought on issues but has become an advertisement-driven election. People this time know who they want to vote for," Sibal told reporters.
But the BJP said their party had the upper hand. BJP candidate from New Delhi Meenakshi Lekhi said people were voting en masse for Narendra Modi, her party's prime ministerial candidate. "Modi wave is a reality... both the rural and urban voters are with us," Lekhi told IANS.
There are 7,057,648 male and 5,657,785 female voters besides 839 'others', or the transgender community.
Chief Electoral Officer Vijay Dev said Delhi will break all records in polling this time. "I am sure a lot of people, including youth and women, will come out and vote," he said.
The voting percentage till 3 pm was North East Delhi- 55%; West Delhi; New Delhi and East Delhi 52 each; North West Delhi - 51%; South Delhi 50%, and Chandni Chowk 49%. Homemaker Paloma Ganguly said she was very excited to cast her vote. "I was surprised to see so many people from resettlement colonies and shanties lined up. I never thought so many people will turn up so early," Ganguly told IANS.
Delhi's Lt Governor Najeeb Jung said after voting with his family. "We must strengthen Indian democracy by exercising our right to vote," he said and urged citizens to vote without fear.