Five-year-old girl is stable, but will need reconstructive surgery; accused traced to Muzaffarpur in Bihar.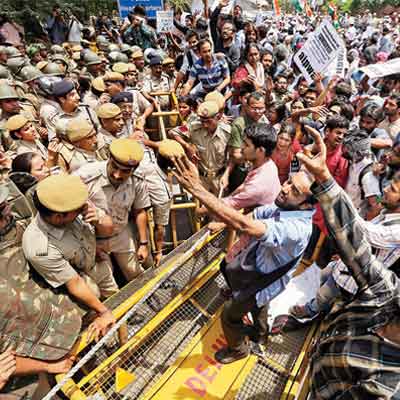 Hours after the 22-year-old who allegedly raped and brutalised a five-year-old girl in Delhi was arrested from Bihar, people gathered outside Delhi police headquarters to protest against police attitudes towards women and the increasing incidents of rape.
The accused, a garment factory worker identified as Manoj Kumar, was arrested from the house of his in-laws in Muzaffarpur, where he fled after assuming that the child had died. Manoj was traced with the help of the signal given out by his mobile phone. He has been brought to Delhi for interrogation.
Doctors said the girl's condition had stabilised — her vital parameters including blood pressure and pulse rate are normal — and she was conscious and was talking to her parents. "She is out of danger. She is on intravenous fluids and antibiotics," said Dr DK Sharma, medical superintendent of AIIMS, where the child is admitted. However, her trauma is far from over. She has severe injuries in her private parts and will need further surgery. "She will need to undergo corrective and reconstruction surgery," Dr Sharma added.
Protests against the rape that began on Friday grew intense following footage that showed a policeman slapping a woman protester, and following reports that the police had offered the girl's family Rs 2,000 not to file a case.
At least 1,000 people, including students, members of the Aam Aadmi Party, and people from NGOs and women's groups gathered at the Delhi police headquarters near ITO in central Delhi, demanding strict action against the policemen for their insensitive behavior in dealing with the case. The protesters tried to break the barricades and enter the police HQ, clashing with the police in the process.
According to the police, the girl was abducted on April 15 while she was playing. She was kept hostage for two days without food and water in a room that the attacker
rented on the ground floor of the building in which her family stayed in too.
"An initial interrogation of the accused and the medico legal case (MLC) report shows that he left the girl presuming she was dead. She was locked in the room for over 40 hours," said Prabhakar, deputy commissioner of police, east district.
The police say that the accused has two brothers and four sisters. He had come to Delhi with his father as a young boy about 15 years ago and had been living here since then.
"His father runs a juice shop in the Seelampur area in east Delhi, while Manoj was employed in a garment factory," said the DCP. Manoj had gotten married recently, and his wife had left for Muzaffarpur a few days before the crime. The girl, who was raped repeatedly, was rescued on April 17 when a neighbour heard her screams and informed her family, who broke down the door of the room in which she was being held hostage.
Congress president Sonia Gandhi visited the child in hospital on Saturday. Prime Minister Manmohan Singh's office said in a statement that he was deeply disturbed by the latest incident.