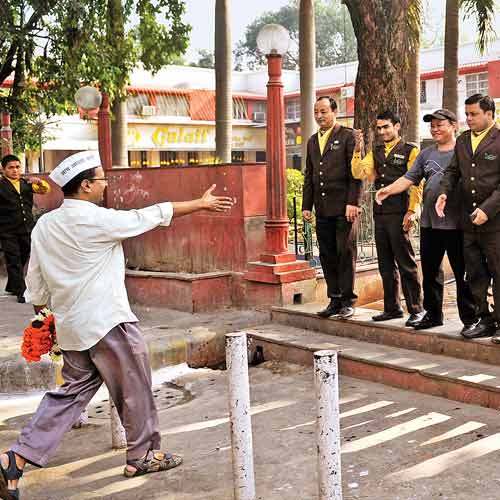 In an attempt to keep voters in high spirits ahead of the elections, political parties have come up with an innovative way to distribute free liquor among people. Candidates distribute a specific series of currency notes to the voters, who then get bottles by giving them to liquor vendors.
Candidates have made arrangements with neighbourbood liquor shops from where potential voters can collect the bottles. "Candidates deposit money with these neighbourhood liquor shops with the instruction that any one coming with a particular series of currency notes should be given liquor bottles. By giving these currency notes to these shops, voters receive bottles without paying the ful price," said a poll manager.
A poll manager told dna that by giving a Rs 10 note of a particular series, voter would get a half (375 ml) and for a Rs 50 note the shops give them a full bottle (750 ml). "Candidates inform these liquor shops in advance about the series of currency notes and the brand of liquor to be given to the potential voters," he said.
A staff member at a liquor vendor in South Delhi said that a candidate has tied up with them for distribution of liquor. "Most of the people (voters) coming to our shop are slum dwellers and they came with Rs 10 and Rs 50 notes. We have received direction to give bottles to whoever comes with the notes of a particular series," he added.
Sources in the political parties said that the owner of the liquor shop would intimate the candidate when the deposited money is about to dry up and the candidate would pay more to ensure that the flow of liqour does not end.
According to a poll manager of a prominent party, earlier liquor was smuggled from nearby states where it's cheaper, but now it involves a lot of risk. "There is risk at every stage while smuggling liquor from other states — from purchase to distribution. If it's not properly stored then there was the risk of being caught by law enforcing agencies," said a poll manager.
During the 2012 municipal polls, the parties started using innovative tricks. A political leader said candidates had tied up with liquor shops from where the voters collected their supply.
"Candidates deposited money with these liquor shops in advance and they issued colour slips to the voters. By giving these slips to the assigned liquor shops, the voters received their quota of liquor without paying anything," he added.