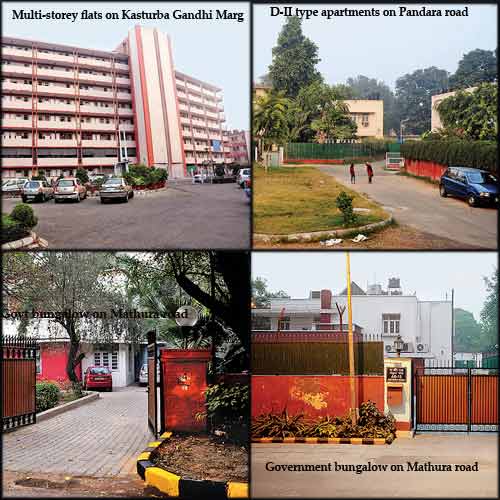 The hunt for a house for Mr Kejriwal has resumed after he was forced to say no to two five-bedroom duplex flats on the posh Bhagwan Das Road. The Public Works Department (PWD) has again been tasked with the hunt to find a house for the Delhi CM.
The options are limited due to Kejriwal's security concerns. Delhi government officials are looking for accommodation in Chanakyapuri, Moti Bagh, Kaka Nagar, Pandara Road, in a multi-storey flats complex on Kasturba Gandhi Marg. And Mathura Road.
"The government needs to find out if there is accommodation of the type-five category that meets the requirements of the chief minister," said a senior PWD official.
Pandara Road flats house senior bureaucrats, judges and MPs including senior BJP leader Thawar Chand Gehlot whhile Kaka Nagar and the multi-storey flats on Kasturba Gandhi Marg along with the Moti Bagh flats house senior bureaucrats. The Delhi would prefer a complete floor in the Kasturba Gandhi Marg flats complex that it can house both Kejriwal's residence and camp office on a single floor.
The Mathura Road flats are for judges, senior bureaucrats and elected representatives. Former chief minister Sheila Dikshit used to live in a smaller accommodation on Mathura Road. That was before she moved into the palatial residence in Motilal Nehru Place in 2004.
A senior official said that the flats in Moti Bagh, Kaka Magar and Kasturba Gandhi Marg are 3-room (two bedrooms and one drawing cum-dining hall) flats. "Flats such as those Kejriwal demanded are limited. Moreover, the official residence of the chief minister also has to have a camp office next to it," he said.
During Dikshit's tenure, six bungalows were made in two government compounds in the Civil Lines area of North Delhi to serve as official residences of six cabinet ministers. Constructed by the PWD, these houses have been ready for occupation for over a year. But the no Delhi minister moved into them The houses remain unoccupied and locked.
The PWD has the keys to these houses, but... "We have no intimation from the CM's office or the Department of General Administration to open them for the chief minister," said a senior PWD official