The Chief Minister along with his six cabinet colleagues and scores of supporters spent the night outside the Rail Bhavan, the venue of their protest, braving the cold winter.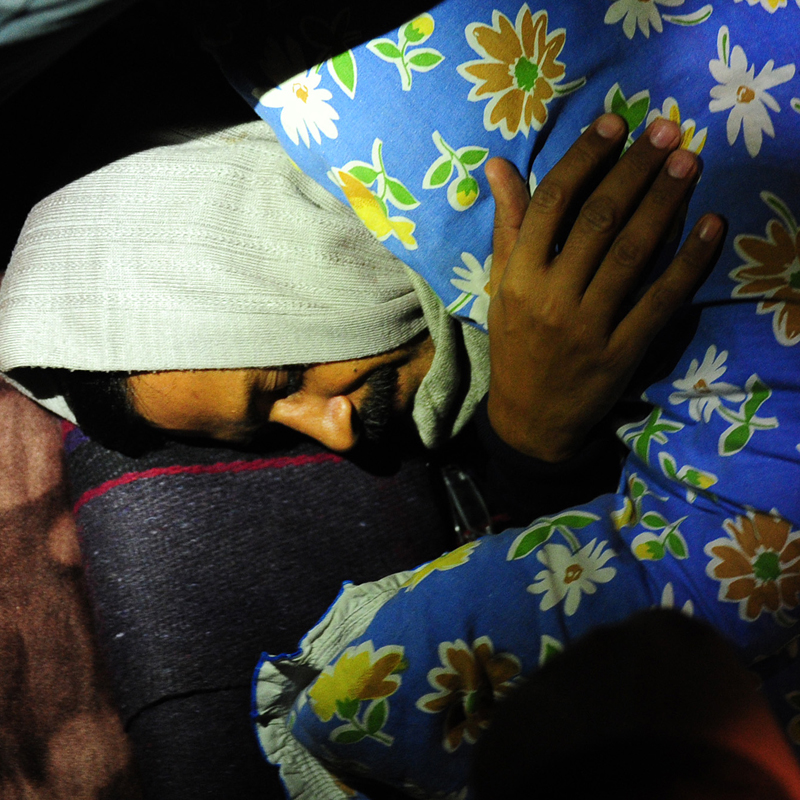 The protest by Arvind Kejriwal against the five Delhi police officers reaches its second day. Unlike yesterday, hundreds of AAP supporters thronged the venue of the dharna outside Rail Bhavan in the high security area close to the venue of Republic Day preparations.
The Chief Minister along with his six cabinet colleagues and scores of supporters spent the night outside the Rail Bhavan, the venue of their protest, braving the cold winter.
Kejriwal slept on the road under the open sky while some of his supporters spent the night singing and raising slogans around a bonfire.
To read about all the action that unfolded yesterday, click here.
Latest Updates:

Arvind Kejriwal protest 'theatre of the absurd': Arun Jaitley
Lt Guv played 'key role' in defusing AAP, Centre stalemate
* All four central Delhi metro stations reopened
* Terming the AAP government in Delhi a "nightmare", BJP leader Arun Jaitley Tuesday said that if Chief Minister Arvind Kejriwal describes himself as an "anarchist", he should not continue in the office even for a day. Read more
* This is the first step towards our goal of achieving full-statehood for Delhi: Kejriwal.
* We condemn people getting hurt in the dharna, we are sorry for the inconvenience caused to people due to shutting of metro: Kejriwal.
* This is a victory for the people of this nation. Will continue to work for women's protection: Kejriwal
* Kejriwal claims victory after calling off dharna, says he demanded removal of cops who didn't act.
Won't disrupt Republic Day parade: AAP
30 hurt in AAP-police clash; Arvind Kejriwal ends protest
Arvind Kejriwal's protest: Opinion divided whether it was proper
Doctors say diabetic Arvind Kejriwal more prone to infections
Federation of anarchists posing challenge: BJP on AAP protest
* AAP stands for Anarchist Aadmi Party, says Venkaiah Naidu
* Arvind Kejriwal calls off dharna as two cops sent on leave pending inquiry.
* Malviya Nagar SHO and PCR incharge of Paharganj to go on leave: TV reports
* Lieutenant Governor appeals to kejriwal to withdraw protest
Delhi's Lt. Governor Najeeb Jung Tuesday urged Chief Minister Arvind Kejriwal to end his street protest in view of the upcoming Republic Day.
Jung called upon Kejriwal to call off his sit-in protest in the heart of the capital "in view of the sacrosanct occasion of the Republic Day and the perceived security situation".
The statement also said that one of the police officers against whom Kejriwal has sought action had been told to go on leave along with a policeman posted in an area where a Danish woman was raped.
* BJP leaders move Delhi High Court for quashing election of Arvind Kejriwal, Somnath Bharti for exceeding poll expenses. Read more
Union Minister GK Vasan slams Arvind Kejriwal protest in Delhi
National Commission for Women describes Arvind Kejriwal's protest a 'childish act'
* I was happy when AAP formed govt, but now I am very disappointed. You can't take the law in your own hands, just because Mahatma Gandhi did it you can't do it in the 21st century. This is pure and simple arrogance of power, not political immaturity: Santosh Hegde on AAP protest.
Delhi Police lathicharge after violent protestors break barricades
AAP, Arvind Kejriwal staging drama and destroying system: Lalu Prasad Yadav
Delhi CM Arvind Kejriwal faces more flak; missing the woods for trees: AAP member Captain GR Gopinath
* 10-15 people who were seriously injured at the protest site have been admitted to RML Hospital.
* Three doctors — cardiologist Dr Deepak Kaushal, Dr Ashok Pawar and Dr Shambunath Gupta — have come to the protest site to help the injured. They say that the police had misinformed them about the medical facilities and personnel stationed at the site. They were shocked to see the number of injured people there. The doctors emphasise that they are there only to treat the injured and not to support any party.
* Medha Patkar defends protests, says it is the fight for rights of people.
* Violence at Arvind Kejriwal's dharna, police lathi-charge AAP supporters. Read more
* Senior AAP leader Yogendra Yadav at protest site to meet Kejriwal, who is sitting inside his car.
* Union Minister Manish Tewari on Tuesday came down heavily on Chief Minister Arvind Kejriwal for threatening to stretch his protest to Rajpath which could disrupt Republic Day celebrations, saying they were Delhi Government's responsibility too. Read more
* Delhi chief minister Arvind Kejriwal walks around the protest site pacifying protesters and telling everyone to remain peaceful and patient. Incidentally, police, to ensure Kejriwal's safety, is walking in close quarters with the CM.
* An ambulance brought 3 AAP volunteers who were injured at the protest site. Another volunteer who had been lying injured at the protest site was taken to the hospital in the same ambulance.
* We are disappointed over Arvind Kejriwal's conduct and will take appropriate decision at an appropriate time: Cong on continuance of support to AAP. Read more
* Joint Commissioner of Police MK Meena: We are being utmost patient. These volunteers are creating ruckus, taking law in their hands and turning violent. We are taking care and we have not lathi-charged, the law will take its own course, reports Mayank Aggarwal.
The All Guest Teacher Association, which has about 50-60 members at the protest site, is supporting the Delhi government in its demand for bringing Delhi police under its authority.
The association is also demanding that the Delhi government give their teachers permanent status and benefits that regular teachers get. They claim they have been conducting a parallel protest since January 15 but the government has not paid them any attention, and that education minister Manish Sisodia refused to meet them, reports Sushmita Halder
* Mayank Aggarwal reports that Delhi police has started mercilessly beating AAP protesters and volunteers at the dharna. Policemen are ganging up in groups of 8-9 to beat up individual protesters. Protesters are now breaking down barricades.
* 36-year-old, Okhla resident Ajit Kumar, said: "It is a good thing that we have Aam Aadmi Party in the government in Delhi. Had it been any other party, we would never have been able to protest against the Delhi police. A Congress of a BJP government would have packed us off to jail by now." Surprisingly, AAP-led Delhi government's protest is receiving supporters from outside the state as well. dna's correspondents spoke to at least two people who said they've come from neighbouring towns in Haryana and Uttar Pradesh
A teacher from Palwal (Haryana), Sanjeev, 26, said: "I have especially taken leave from my school to come to join the AAP government in its protest against the police." 40-year-old trader Surinder Pal from Loni (UP) said: "It is fair for the Delhi government to ask that the Delhi police should come under its authority. In fact, no one from the Centre has come so far to talk to us or to understand our demands."
* Home Minister Sushilkumar Shinde today said there is no change in the government's stand on Chief Minister Arvind Kejriwal's demand for suspension of policemen for alleged dereliction of duty, saying action will be taken only after receiving the inquiry report. "My stand remains the same. No change in the stand. Action will be taken only after receiving the report," he told reporters here. He was replying to a question whether the Home Ministry is contemplating suspension of those policemen against whom Kejriwal and his ministerial colleagues are demanding action for alleged dereliction of duty relating to three incidents.
* Two BJP leaders move Delhi HC seeking quashing of election of Arvind Kejriwal and Somnath Bharti for allegedly exceeding poll expense limit.
* Crowds on second day of Delhi government protest have increased tremendously. dna correspondents Tehseen Raza and Sushmita Halder say at least a thousand people have braved rains and low temperatures to join the ongoing agitation.
* Associations of street vendors as well as a group of college guest lecturers have added their weight to the protest.
* The protest has also now spread to the area outside Krishi Bahwan as the Delhi police have put up barricades in the area around Rail Bhawan. The barricades have in effect segregated the crowds of protesters.
* Food is constantly being supplied by AAP volunteers. AAP MLA from Rohini Rajesh Garg, himself at the protest site, has been coordinating with various volunteers to ensure that food is reaching the protesters. "The police is not allowing our vehicles carrying food to come here. We have now put a team of 10 volunteers to come in and out of the protest site with the food," said Garg
* AAP supporters pelted stones at policemen causing injuries to two of them: New Delhi DCP S.B.S. Tyagi.
* "We have spoken to Kejriwal twice, and tried to persuade him to shift the protest base to Jantar Mantar as, like here, Section 144 is not implemented in that area," Deputy Commissioner of police (New Delhi) S.B.S. Tyagi said. Section 144 of the Criminal Procedure Code (CrPC) prohibits the assembly of more than five people in one place. Read more
* Four Metro stations -- Patel Chowk, Central Secretariat, Udyog Bhavan and Race Course -- remained closed from 6 A.M after a late night direction from the Delhi Police to the DMRC. Even the interchange at Central Secretariat was closed. Trains on Line 6 coming from Badarpur to Central Secretariat terminated at Khan Market Metro station. This arrangement will be in place till further directions, a DMRC official said. Read more
Arvind Kejriwal defending use of 'racist' language by minister: CPM
Aam Aadmi Party wants government to fail: Kirti Azad

* Agitating under the open sky, Chief Minister Arvind Kejriwal along with his ministerial colleague Manish Sisodia was forced to take refuge in his small blue car as the skies opened up this morning. Read more
Aam Aami Party was voted to straighten system, not bend it

* SC agrees to hear PIL filed against the agitation by Delhi Chief Minister Arvind Kejriwal.
* Threatening to hinder R-day parade, Kejriwal said that Rajpath on 26th January, will be thronged by lakhs of people, and not the tableau if his demands aren't met. "Republic Day does not mean people enjoying tableau at Rajpath... it means the rule of people," said Kejriwal raking up the issue of increasing cases of crimes against women in the capital. "Doesn't the parents' hearts beat restlessly, when their daughters leave for college," he said.
* "Shinde is making this place to be like India and Pakistan by not even letting water inside the place of protest, leave alone people. They are behaving like our enemies," said AAP leader Manish Sisodia. Read more
90% crimes take place in knowledge of police: Arvind Kejriwal

* Delhi Chief Minister Arvind Kejriwal today upped the ante, threatening to flood Rajpath, the venue of Republic Day celebrations, with lakhs of supporters demanding action against policemen who refused to carry out a raid on an alleged drug and prostitution ring. He ruled out any negotiations to scale down the protest, saying the safety of women in the capital is not a matter of negotiation.
* "We will continue our protest.How can Home Minister (Sushilkumar) Shinde sleep when so many crimes are happening in Delhi? When women are unsafe in the city? We won't negotiate," Kejriwal told reporters.
* 'This unconventional politics will be a new league of politics for India,' he added.
CM Delhi said he is an anarchist.Dictionary meaning of an anarchist is one who is unruly, lawless, illegal and confused+ Did we want such?

— Kiran Bedi (@thekiranbedi) January 20, 2014
* Kejriwal's supporters decide to spend the night outside Rail Bhavan.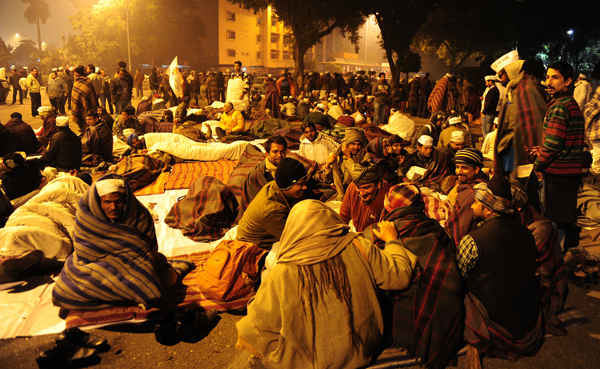 * Kejriwal is also trending on Twitter for the second consecutive day in India. Hashtags like #AAPDrama and #KrantiKariAAPGovt are continuing to top the charts.
I m paying d price of ur #dharnas .Paid 50 bucks to auto frm Khan mkt metro to Rajiv chowk, as direct metro wasn't there. #AAPDrama

— Swati Bhasin (@swati_bhasin) January 21, 2014
Why don't AAP protest and do a dharna at GB Road first if they really want to end prostitution. Why this hypocrisy and drama? #AAPdrama

— Gautam Trivedi (@Gotham3) January 20, 2014