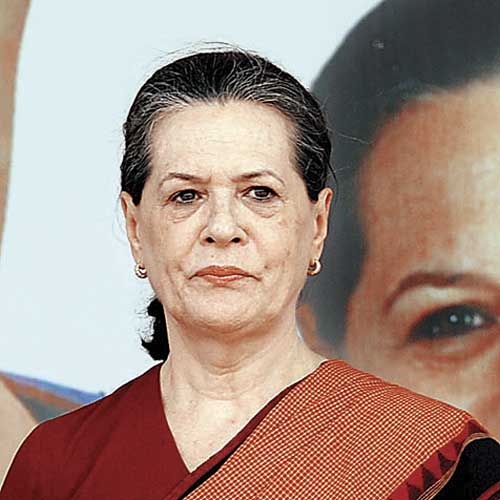 The Delhi High Court has directed the Central Information Commission to decide in six months a complaint against Congress President Sonia Gandhi on the issue of non-compliance of transparency panel's directions that the party was answerable under the RTI Act.
Noted RTI activist RK Jain had approached the Commission with his complaint against Gandhi saying that the party had returned his RTI application dated February 7, 2014 without answering.
A full bench of the Commission had declared Congress along with five other national parties - BJP, CPI, CPI-M, NCP and BSP - as public authorities making them answerable under the RTI Act.
Refusal to provide information or not furnishing complete information is deemed an offence under the RTI which attracts a penalty of Rs 250 per day from the date information became due to the day it was furnished on the public information officer of the public authority.
None of the political party has so far received any stay order against the decision of the Commission declaring these parties as public authorities which implies that they must adopt the procedures of processing the RTI application as given in the transparency law.
But when Jain sent his RTI application, seeking to know from Congress party the steps taken by it to implement the RTI Act and designated officials to respond to the RTI applications, the party refused to "take delivery" and returned the envelope.
Faced with denial of his right to information, Jain approached the Commission with his complaint alleging that the party told him over phone that no officers such as Central Public Information Officer or First Appellate Authority have been appointed by the party.
"The respondents have deliberately, malafidely, and persistently not provided the information in spite of clear mandate of the RTI Act and direction of the CIC contained in its order dated June 3, 2013..." Jain alleged.
He approached the Delhi High Court as the Commission did not register his complaint despite repeated pleas before then Chief Information Commissioner Sushma Singh.
In his plea before the High Court, Jain claimed that he was aggrieved by the above "non-action" of the CIC hence and so he moved the petition.H
During the hearing, CIC the claimed that Jain's plea was registered on May 15 and the matter was likely to be taken up shortly.
In his order, Justice Vibhu Bakhru said, "In view of the statement made by the learned counsel for the respondent (CIC), the present petition is disposed of with the direction that the complaint filed by the petitioner be considered expeditiously and preferably within a period of six months." A full bench of the Commission comprising then Chief Information Commission Satyananda Mishra and Information Commissioners ML Sharma and Annapurna Dixit, in its June 3, 2013 order, had given six weeks to the six national parties to appoint CPIOs and Appellates Authorities as mandated under the RTI Act.