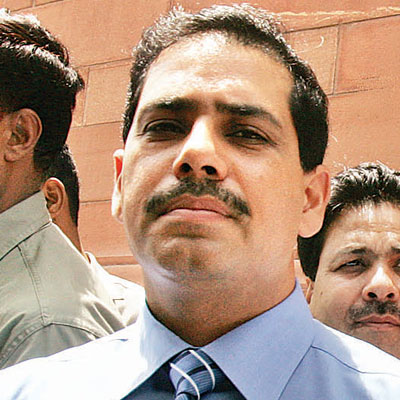 A day after Priyanka Vadra reacted publicly to the allegations against her husband Robert Vadra, son-in-law of Congress chief Sonia Gandhi, the Delhi high court on Wednesday agreed to hear a PIL seeking probe into the alleged land and other corruption-related charges.
A division bench of Chief Justice G Rohini and Justice Pradeep Nandrajog fixed the matter for April 30.
The bench was hearing the PIL filed by M L Sharma, an advocate, seeking CBI probe for alleged licences granted to several real estate developers, including Skylight Hospitality Pvt Ltd, owned by Vadra, for developing colonies in Haryana.
Sharma contended that between 2005 and 2012, the state of Haryana, the department of town and country planning (DTCP) had issued licences to developers and builders for turning 21,366 acres of agricultural land into colonies without complying with the statutory rules.
The decision caused "serious financial loss of Rs3.9 lakh crore" to the exchequer, it added.
In the plea, he contended that allocation of licences for developing colonies was contrary to provisions of the Haryana Development and Regulation of Urban Areas Act.
It further sought quashing of the June 3, 2013 letter by Comptroller and Auditor General (CAG) Shashi Kant Sharma allegedly rolling back the audit and inquiry into the grant of licence to Skylight Hospitality Pvt Ltd.
As per the plea, the inquiry was ordered by Shashi Kant Sharma's predecessor Vinod Rai.
The PIL said, "CBI to register a criminal case under various sections of IPC including cheating and also under the Prevention of Corruption Act against the Respondent No. 3 (Vadra) and others.
The petitioner sought the court to monitor CBI investigation. It contended saying "for criminal action /direction and prosecution of the all persons concerned having hand together benefited them via public office and caused serious financial losses to the government as well as to the poor farmers of Haryana and Rajasthan."
Earlier in mid 2013, senior IAS officer Ashok Khemka had alleged that Vadra "falsified documents" for 3.53 acres of land in Gurgaon, Haryana and took a large premium on a commercial colony licence. In his "voluminous reply" submitted to Haryana government's three-member inquiry committee set up in October 2013 to look into the deal, Khemka is understood to have alleged that Vadra executed a series of "sham transactions" for it.
Vadra was later accused of inking illegal land deals in Rajasthan. He was accused of buying acres of land from farmers for as low as Rs 20,000 an acre. The Congress denied the charges.