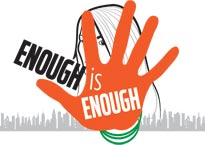 Violence erupted at India Gate on Sunday when protesters pelted stones and fought a pitched battles using rods with the police which repeatedly lobbed teargas shells, resorted to use of water jets and used force to disperse the agitators.
Amid reports that 'some elements' were inciting violence, clashes erupted for the second time within 90 minutes at around 2:30 PM when protesters pelted stones at the police which had barricaded Rajpath leading to Raisina Hill but the reason for the provocation could not be ascertained.
At 3:15 PM again, the police lobbed teargas shells and used water jets after the protesters resorted to stone- pelting.
Some protesters also used rods to attack policemen, eyewitnesses said.
However, most of the protesters remained peaceful and objected to the use of violence during the protests. They alleged that those who indulged in violence had motives.
The police resorted to lobbing several teargas shells and use of force to disperse the crowd on Rajpath near the War Memorial, injuring several people including some media persons.
The protesters damaged the barricades erected on the lawns for Republic Day functions next month, damaged vehicles and even blocked traffic around India Gate and its arterial roads for hours.
Teargas shells were lobbed at the agitators near India Gate at around one PM as they tried to enter Rajpath to head towards Raisina Hills. However, later they were allowed to proceed in a bid to ease traffic on the radial road.
The protesters then tried to cross the barricades and clashed with the police who resorted to the use of water cannons at 1:15 PM.
This was the second successive day that the police resorted to lobbing teargas shells and spraying of waterjets besides using force to contain the protest demanding speedy justice and stringent punishment for the accused in last Sunday night's incident.
Doctors at the Safdarjung Hospital said the condition of the victim continues to be critical.
A group of protesters also met Sonia and Rahul Gandhi during which the Congress top leaders assured speedy action while refusing to give a time-frame for it.