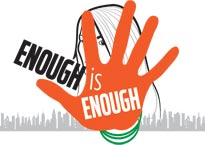 The 23-year-old woman who was gang-raped four days ago has been communicating, writing notes to her parents. "The culprits should be punished," she wrote in one note; in another, she enquired after her male friend who had tried to defend her and was beaten, a doctor at Safdarjung Hospital told IANS.
Doctors have been admiring the young woman's fortitude and grit, despite the intense pain: "Being a medical student, she understands the treatment process and has been cooperating with the hospital staff. Her lower vagina has been badly damaged, but her upper vagina is not so affected. If she comes out of this crucial phase, she could lead a normal life," the doctor told IANS, on condition of anonymity.
The doctor also said that the young woman knew that her torture and gang-rape by six men in a moving bus had left the nation shocked, and that there has been a massive outpouring of grief and expressions of support.
"She is aware that MPs, students and women's rights activists have come out and expressed support for her and the whole nation is outraged," the doctor said.
The victim was serving as an intern at a private hospital here.
Doctors on Wednesday conducted a two-hour surgery to remove a section of the intestine that had become gangrenous.
The woman and her male friend were assaulted, stripped, robbed and then dumped by the roadside by the six men in a private bus. The torture lasted about 40 minutes.
Police have arrested four of the six suspects, and are looking for the two who are on the run.
Though doctors said the woman was conscious and stable, they said there was danger of infection over the next few days.
The woman is still on ventilator support, and "her vital parameters are within expected normalcy", the doctor said.